Here's Every Single Damn Detail About 'Star Wars: The Last Jedi' That You Need To Know
9 March 2017, 13:52 | Updated: 4 December 2017, 11:10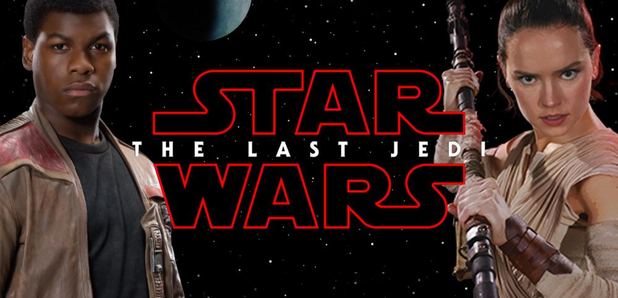 The force is strong with these spoilers.
DISCLAIMER: If you're not counting down the seconds until the eighth episode of the Star Wars franchise, The Last Jedi, we - quite frankly - can't be friends anymore.
Following the recent success of The Force Awakens and Rogue One, we've spent probably a little too much time researching every single aspect of Rian Johnson's 2017 sci-fi saga.
Expect release dates, cast details, rumours, plot points and spoilers galore. In the words of the late, great Master Yoda, "Thank us later, you can."
The Release Date
363 days since the release of The Force Awakens (WHICH IS NEARLY A WHOLE DAMN YEAR OF WAITING TO SEE WHAT HAPPENED BETWEEN REY AND LUKE), The Last Jedi's initial release is 15 December 2017.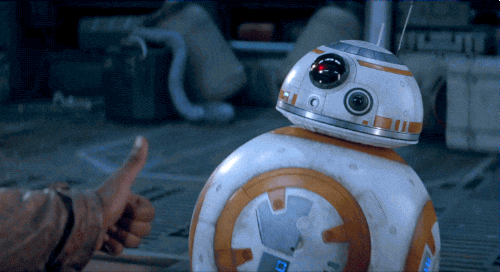 The Director
Directed by Rian Johnson, you know Episode VIII is in good hands. Rian is a science fiction hero, having directed the incredible Bruce Willis-Joseph Gordon-Levitt flick, Looper, as well as having had a brief cameo in Rogue One. Rian has also gone on to direct several episodes of Breaking Bad. He's also set to write the ninth episode in the series.
And while he might have the audacity to try to kill of Luke, what with him being possibly the - you guessed it - Last Jedi, he's a pretty top bloke to follow. On Instagram, he often posts Star Wars pictures, like this...
The Cast
As you can expect, a lot of The Force Awakens' cast are returning to The Last Jedi. (Otherwise it wouldn't have been much of a sequel, would it?)
Returning cast members are:
Mark Hamill as Luke Skywalker
Carrie Fisher as General Leia Organa
Adam Driver as Kylo Ren
Daisy Ridley as Rey
John Boyega as Finn
Oscar Isaac as Poe Dameron
Lupita Nyong'o as Maz Kanata
Domhnall Gleeson as General Hux
Anthony Daniels as C-3PO
Gwendoline Christie as Captain Phasma
Andy Serkis as Supreme Leader Snoke
Peter Mayhew and Joonas Suotamo as Chewbacca
Mike Quinn as Nien Nunb
Timothy M. Rose as Admiral Ackbar
Billie Lourd as Lietuenant Connix
Simon Pegg as Unkar Plutt
Jimmy Vee as R2-D2
However, many new cast members have been announced. Benicio del Toro, who you may recognise from Guardians of the Galaxy and Sicario, is appearing as an unnamed villain. And - brace yourself - much like Daniel Craig's cameo in The Force Awakens, both Tom Hardy and Gary Barlow (WE KNOW, RIGHT?) are rumoured to play Stormtroopers.
Tom's Stormtrooper is said to recognise Finn, when he returns to the First Order, dressed in his Stormtrooper uniform. It seems like a pretty funny role for Hardy, who's said to congratulate Finn, believing he's actually a double agent for the Order. And as for Gary? Well, we don't know that much. We just hope we get our first singing Trooper.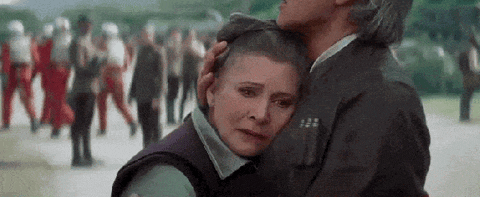 As for Carrie Fisher, she will not be remade using CGI technology, like that used in Rogue One. Her shocking death happened long after production on the movie finished, with Rian claiming the final shot was filmed back in July 2016.
Final slate of the final shot. VIII is officially wrapped. Cannot wait to share it with you all! -@rianjohnson pic.twitter.com/l4Apk0Ro4i

— Star Wars (@starwars) July 22, 2016
The Plot
If you thought that anyone was able to get their hands on Star Wars plot lines before, you're crazier than people who thought Jar Jar Binks was the best thing to happen to the franchise.
Director, Rian, has said - in an interview with USA Today - that the story will focus on "what's going on with Luke Skywalker". And, well, that's about it. However, we should see storylines for the other central returning characters, Rey, Finn and Poe.
The cast and crew have seemingly kept a lot of the plot details under wraps. While on the set of the remake of Murder on the Orient Express, man-of-the-people (and, yes, voice of Olaf in Frozen) Josh Gad grilled Daisy Ridley on the meaning of The Last Jedi. Is Luke the last Jedi? Will he die? Is Jedi plural? Will Rey become a Jedi?! I don't think we've ever said "Jedi" so much in our lives, so we'll just leave you with this.
UPDATE: Luckily, after a foreign poster advertising 'The Last Jedi' was released, we can confirm that Jedi is plural. This doesn't mean the opening shot will be Rey slicing and dicing Luke into tiny little bits. Phew.
Now if you're not after spoilers, then these are not the spoilers you're looking for. Last year, a "leaked" script of The Last Jedi was found on reddit. So you know it's legitimate, if it's on there. Like, we've seen a GIF of a dog on a see-saw on reddit, so why wouldn't that be the actual screenplay?! While the script read as 'Echoes of the Dark Side' - and we now know it's called 'The Last Jedi' - this could be a case of the movie being renamed, as is often the case.
MAJOR, MAJOR, MAJOR PLOT SPOILERS ARE HERE, GUYS. (You've been warned).
There's still time to turn around. You can do it...
The main plot points of the reddit-found script state that Rey, Finn and Kylo will all have equal storylines, but won't actually meet until the third and final act of the movie. While training with Luke, Rey finds out that she is - in fact - the reincarnation of Anakin and, therefore, Luke's father? Yeah, we're still trying to get our heads around that one too.
Meanwhile, Finn has been captured by Kylo, and is tortured into releasing information on Rey's whereabouts. It's also alluded that Ewan McGregor will return as Obi-Wan Kenobi to guide Luke into returning to the battle.
We kinda want him to return just 'cause of that GIF, now.
A reporter for the Los Angeles Times was treated to a top secret screening of the movie, and he did his best to keep it to himself. Right before he took to Twitter six seconds after and reported exactly what happened. Don't worry - nothing new's really given away; Daniel wrote "We just got a few seconds of Rey handing Luke a lightsaber.
"We just saw more "Star Wars: The Last Jedi" footage. In it, Luke asks Rey, "Who are you?" Then we see her deftly handle a lightsaber."
"Star Wars: The Last Jedi" clip is being screened. But it's a joke, sort of! We just got a few seconds of Rey handing Luke a lightsaber.

— Daniel Miller (@DanielNMiller) March 8, 2017
We just saw more "Star Wars: The Last Jedi" footage. In it, Luke asks Rey, "Who are you?" Then we see her deftly handle a lightsaber.

— Daniel Miller (@DanielNMiller) March 8, 2017
One last thing on the "Last Jedi" footage: We saw all sorts of settings -- mountains, oceans, forests, deserts. Look suitably epic, exotic.

— Daniel Miller (@DanielNMiller) March 8, 2017
The Setting
And this is why Twitter is the greatest invention of the modern day. While Rian has occasionally posted snaps of him inside the Millennium Falcon's corridors, etc., some eagle-eyed fans have captured the filming on location, including:
The happiest looking alien fella going.
Star wars episode 8 photos
This dude enjoying himself on set + landspeeder #starwars #StarWarsEpisodeVIII pic.twitter.com/XMSbBuK6C5

— Mr.Wonderful (@mr1derful1) March 14, 2016
Action stunts with haircuts that would only be fashionable in space.
https://t.co/jrXnjDAxOK
Video of action stunts rehearsed on Dubrovnik's Main Street. #starwarsdbk #thedubrovniktimes pic.twitter.com/2Rgja3H9Cy

— StarWarsDubrovnik (@StarWarsDbk) March 19, 2016
Erm, some windows...
https://t.co/xMPlYjnTee
Is Dubrovnik playing space casino resort in Episode VIII?#starwarsdbk #starwarsepisode8 pic.twitter.com/EBv54LUjDN

— StarWarsDubrovnik (@StarWarsDbk) March 28, 2016
And a less than authentic-looking spaceship.
https://t.co/QmJjJawqpB
VIDEO: I wouldn't mind taking a ride in this one. #starwarsdbk #starwars #DubrovnikTimes pic.twitter.com/M3oSZM6kgJ

— StarWarsDubrovnik (@StarWarsDbk) March 31, 2016
The Trailer
Annoyingly, no movie footage has been released yet. We've tried finding, and all we can see is fan-made trailers. At least we haven't been Rick Roll'd yet... And don't even attempt it, okay?
Star Wars released a very brief, and no-detaily announcement trailer, which shows the final moments that Rey meets Luke Skywalker at the end of The Force Awakens, followed by the Roman numerals 'VIII'. Until the official release, we'll just watch that over and over again, we s'ppose.
Until then, we'll just was a long time from now, in a galaxy not so far away.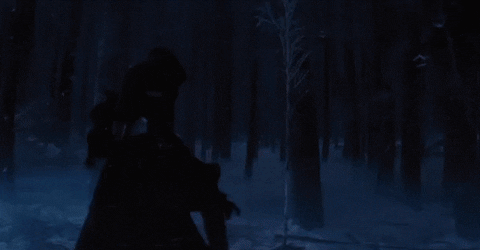 You May Also Like...