Is It Really Time For A #SnapchatIsOverParty?
16 March 2018, 15:38 | Updated: 16 March 2018, 16:06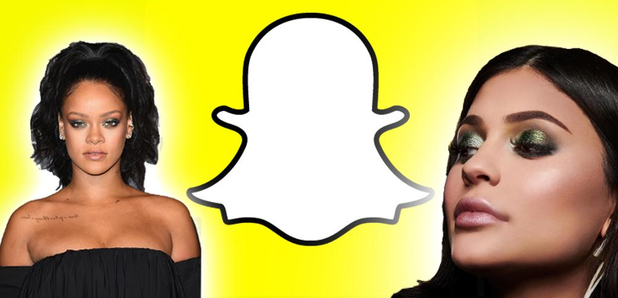 Snapchat has once again found itself in the news for all the wrong reasons and with some high profile celebs publicly abandoning the platform in recent times, could the end be in sight for the game-changing app?
You've probably noticed that Snapchat is going through what some might call a rocky patch. With updates that people hate and turning some huge celebs against them, people are starting to ask if the picture messaging app's time is up.
> 80+ Of The Biggest Celebrities You Really NEED To Add On Snapchat Today
Its Update Was So Awful People Started A Petition
Yup. Users were so outraged with the latest Snapchat update which was deemed 'unnecessary' and 'difficult to use' that someone actually started an online petition called 'Remove the new Snapchat Update'.
People went into meltdown and took to social media to express their disapproval, including celebs. It's 2018 and these things matter.
I'm seeing this same comment so often. I liked that you guys felt like we were friends. I'm sad it doesn't feel like that anymore. How many people have to hate an update for it to be reconsidered? https://t.co/PI7OAf9Qlg

— christine teigen (@chrissyteigen) February 9, 2018
does snapchat think we just forgot? like i'm still mad ab this update

— rem (@remijtrahan) March 12, 2018
Snapchat responded saying that everyone just needed some time to adjust to it, but people haven't stopped talking about it since. Sometimes the people are right!
Kylie Jenner Said It Sucked, So It Sucks.
After Kylie went into hiding during her pregnancy, one of the first things she tweeted about was how she barely uses the app anymore.
sooo does anyone else not open Snapchat anymore? Or is it just me... ugh this is so sad.

— Kylie Jenner (@KylieJenner) February 21, 2018
It's safe to say her comments triggered an entire section of users to immediately follow suit and abandon it.
Mm just saw the new Snapchat.. I don't know how i feel about it! What do you guys think?

— Kylie Jenner (@KylieJenner) February 9, 2018
The results were catastrophic as Snapchat lost a billion dollars in market value almost immediately. One whole billion. It's really no joke when people say the Kardashians can break the internet.
It Promoted A 'Slap Rihanna' Advert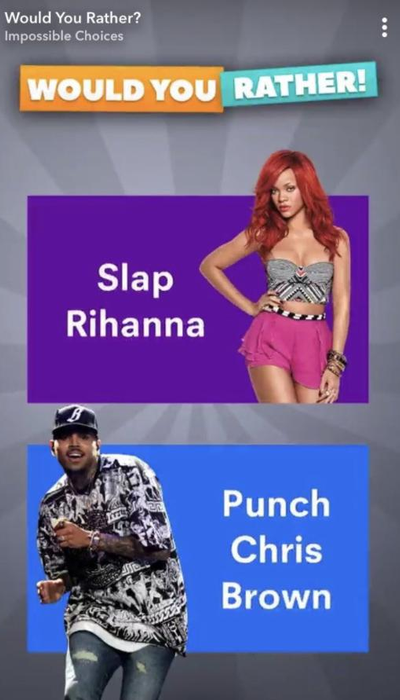 Picture: Twitter
There is literally so much wrong with this we don't really know where to begin.
Promoting an advert for a smartphone game 'Would you rather' it asked: Would you rather: slap Rihanna or punch Chris Brown? It's quite obviously referencing the violent assault on Rihanna by Chris Brown which landed the singer in hospital and shocked the world.
The app has apologised, calling the advert disgusting and a terrible mistake, but not before the entire thing went viral for all the wrong reasons. Not before the company had another billion wiped off its value either.
Unsurprisingly The Queen Of Clap Backs Came Straight After Them
Oh y'all really thought you'd get away with that?!
Badgalriri's response may just be the nail in the coffin. She basically told Snapchat what they could do with their apology and didn't for a second believe they were ignorant to the whole thing.
Picture: Instagram
She also took the opportunity to defend victims of domestic abuse, telling Snapchat they'd let them down and brought shame on themselves.
THERE ARE NO WORDS. Apart from big up the bad gal.
Other Apps Are Doing It Better
As people flock back to Twitter (we missed u hun) and Instagram launched the incredibly successful stories feature, Snapchat is quickly getting left behind.
Apps like Musical.ly, a lip syncing video sharing platform are becoming hugely popular and threatening to render Snapchat 'irrelevant', especially as they refuse to change their new design despite such widespread criticism.
Why Not Try OUR New App For All The Latest Music News And Goss!
Want to find out how to unlock every snapchat trophy? Check out our tutorial...