We've Solved The Mystery Behind This Ghostly Groundsman Who Was Spotted On Sky Sports
15 September 2016, 10:51 | Updated: 4 December 2017, 11:10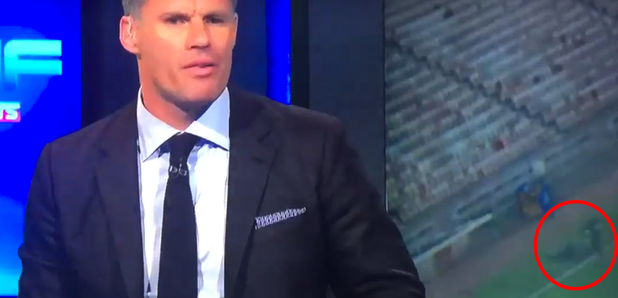 The pundits had no idea this spooky spectre was on the pitch behind them!
Shocking moments always occur in football.
Whether it's Leicester City winning the Premier League or England being knocked out of the Euros by Iceland, there have been quite a few surprises in 2016.
But no one was ready for one of the biggest shocks of the year.
The ghost of a groundsman!
@SoccerAM #3rdeye Check out the ghost behind Phil Neville on MNF... pic.twitter.com/SqXy7vimZU

— Anthony Smith (@anthony_j_smith) September 12, 2016
It appeared following a match between Everton and Sunderland earlier this week but none of the pundits noticed.
Of course viewers were quick to spot the spooky sighting and took to Twitter to share their horror...
@SoccerAM spot the Sunderland ghost pic.twitter.com/IizD3zOBOX

— James Marriott™ (@Jmgills) September 12, 2016
Pretty sure that there is something strange going on at Sunderland #mnf #strangerthings #ghost @Carra23 pic.twitter.com/8u202FHeJP

— Eoin O Murchu (@eoinomurchu) September 12, 2016
Ghost groundsman at the stadium of light. The ground needs an exorcism #MNF pic.twitter.com/u9TL4lrCif

— Jamie Campbell (@Jamie_C_) September 12, 2016
But whilst we like the idea of a ghostly groundsman haunting The Stadium Of Light, we're pretty sure we've solved the whole mystery.
On the screens behind Jamie Carragher and Phil Neville, the images we see are likely to be stock footage of the ground played on a loop.
This means that Adrian Partridge, the club's head groundsman, would've been caught in the footage before the loop starts again and he 'disappears'.
Sorry to any ghost hunters out there who thought they'd found proof of the spirit world.
We'll be keeping an eye on all the rest of Sunderland's home games this season to see if we can spot Adrian again!
You may also like...