Yeah, Zac Efron Table Dancing To Jason Derulo's 'Wiggle' Is JUST As Good As It Sounds!
1 July 2014, 12:17 | Updated: 4 December 2017, 11:10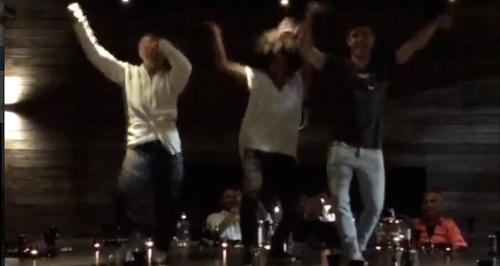 Zac Efron wiggling his little butt while dancing on a table is the stuff of dreams, right? Not any more. This just got REAL, and it is everything we hoped.
Oh Zac Efron, you are just the gift that keeps on giving, aren't you?
We're INSANELY jealous of the women in this new video of Zac Efron, as they got front row seats to see Zac 'Wiggle'. The only way we could imagine this video being any better is if Zac were shirtless, tbh.
Zac, who is currently on holiday in Italy with his pals Youssef Giga and Gianluca Vacchi, climbed up onto a table in what appears to be a restaurant (which we would totally not condone in normal circumstances, but Zac could literally tread in our pasta and we would thank him for it) to perform his version of Jason Derulo's 'Wiggle'.
And after this GEM, we will be keeping a close eye on Gianluca's Instagram account, as he also posted another video of topless Zac chilling with his pals, including Michelle Rodriguez who is doing a pretty impressive handstand. More sexy Zac please, Gianluca – you clearly have the power to provide it!