Remember S Club Juniors? Well Here's What They're All Doing Now...
10 March 2017, 16:59 | Updated: 10 December 2018, 11:18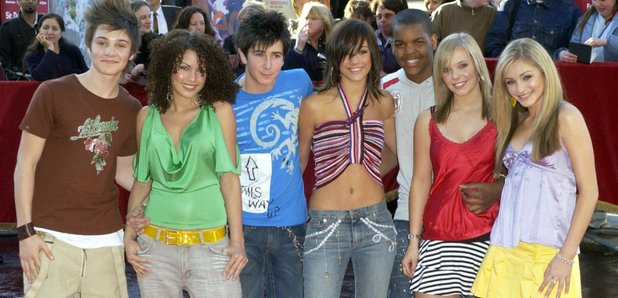 After a string of top 10 hits, these lot have gone on to lead very different lives!
S Club 7 were the ultimate pop group with seven members - no one can deny that.
They had numerous chart hits such as 'Don't Stop Movin', 'Bring It All Back' and 'S Club Party', becoming an iconic part of the UK pop scene at the turn of the millenium.
It turned out that we loved them so much that we decided we needed to have two of them, so S Club Juniors was created.
This time though, the magical S Club number was raised to 8 and the eight members of the group (who were also known by the name S Club 8) went on to release two albums and perform at Wembley Arena.
But whatever happened to the eight members? Let's find out...
Aaron Renfree
(front row, middle)
Aaron was the oldest member of S Club Juniors when they formed back in 2001 - since the group went their seperate ways, Aaron has worked as a choreographer & dancer and starred in the musical We Will Rock You.
As a dancer, Aaron has performed on The X Factor and also alongside two of his fellow S Club Juniors members on stage with The Saturdays.
Frankie Sandford
(back row, far right)
As one of the S Club Juniors who has remained in the public eye since leaving, Frankie has gone on to become a member of The Saturdays, whilst also starring in Strictly Come Dancing, finishing as runner up back in 2014.
Frankie is married to former England footballer Wayne Bridge and the couple have two sons.
Calvin Goldspink
(front row, far right)
Calvin joined S Club Juniors at the tender age of 12. Since then, he's moved out to America to pursue other work interests.
Interestingly, he played Kate Middleton's younger brother, James Middleton, in the Lifetime adaptation of the William and Kate story back in 2011. However he's still focussing on music and released his first EP called 'The Lemon Tree' not too long ago.
Rochelle Humes
(back row, second from left)
Like Frankie, since parting ways with her S Club chums, Rochelle has maintained a big career in the media spotlight. Rochelle is also a member of British group The Saturdays, alongside Frankie, and is married to Capital presenter & JLS hearthrob Marvin Humes.
Rochelle has also taken on a number of presenting roles over the years, including working on The Xtra Factor and occasionally This Morning, alongside Marvin.
The pair have daughter Alaia-Mai and have just given birth to their second daughter, Valentina Raine.
Jay Asforis
(front row, far left)
After S Club Juniors ended, Jay has continued along a musical path. He has stayed out of the public eye for the most part, although he recently starred in the West End musical Beautiful: The Carole King Musical.
Hannah Richings
(back row, middle)
Hannah, like Jay, has stayed out of the public eye since leaving S Club Juniors.
She runs an online shop, has two children, Finley Jay and Poppy May and is focussing on motherhood.
Daisy Shelvey
(back row, second from right)
After she left S Club Juniors, Daisy went on to join another girl band, From Above. They were managed by Beyoncé's dad Matthew Knowles, who also managed Destiny's Child. Unfortunately the group didn't do as well as Bey & co and they ended up auditioning for The X Factor, failing to get past boot camp.
Daisy is currently working as a make up artist and is married to England footballer Jonjo Shelvey. The couple have two children, Lola and Alba.
Stacey McClean
(back row, far left)
Once her S Club days came to an end, Stacey went on to audition for The X Factor, where she made it all the way through to judges houses with Danii Minogue as her mentor.
Stacey has also worked as a receptionist and had stints presenting on local radio stations. She recently became an ambassador for Epilepsy Action after her mum experienced an unexpected seizure at work.
You may also like...