Rob Kardashian & Blac Chyna SPLIT & Their Bitter Instagram Posts To Each Other Are Dramatic AF
19 December 2016, 16:17 | Updated: 4 December 2017, 11:10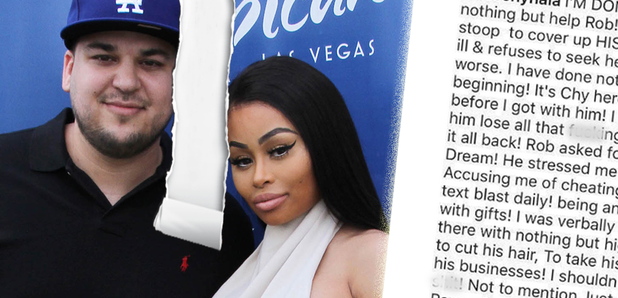 Talk about an explosive ending to a relationship...
Rob Kardashian and Blac Chyna's relationship has been full of ups and downs and much of it has taken part on camera as they film their fly on the wall show Rob & Chyna.
But they've stuck together through thick and thin, even recently welcoming their daughter Dream Kardashian to the world.
But it appears their dramatic and often combustuous partnership has come to an explosive end after Blac left their home and took daughter Dream with her! Just before Christmas too.
Picture: Getty
The whole thing played out across social media and it all got seriously messy. Blac even created a new Instagram account just to share all the inside info from the split - pretty rogue.
It all began to erupt when Blac Chyna's Instagram was hacked...
Someone hacked @BLACCHYNA Instagram and it is GOING DOWN right now

Hate to say I told u so but pic.twitter.com/sdGolnFn0s

— (@PizzaHendrix) December 17, 2016
Rob then jumped onto Snapchat to officially reveal that Blac Chyna had in fact left him and taken Dream, plus a load of their stuff with her...
Rob Kardashian's snapchat story is sad pic.twitter.com/GqcvLGcuYm

— Jack Mull (@J4CKMULL) December 18, 2016
But then Blac Chyna set up a new Insta account and hit back, which was followed up quickly by an Instagram post from Rob!
It looks like it was Rob Kardashian's fault. The good sis blac Chyna was just moving on pic.twitter.com/8Xgw2AHj8r

— Alluring Ivy (@Drebae_) December 18, 2016
Rob's Instagram post
@robkardashian pic.twitter.com/Ut90ISZtlw

— Kardashian Pedia (@Kardashianpedia) December 18, 2016
Rob then went on to post three memes claiming that Blac effectively stole Christmas - one being a badly photoshopped version of The Grinch, one referencing classic Christmas film Home Alone and the other referencing The Fresh Prince Of Bel Air.
I'm screaming at Rob Kardashian posting these Blac Chyna memes on Instagram pic.twitter.com/5IkqWtSrVd

— S h e a n. (@XnaraArts) December 18, 2016
In another post, which has also since been deleted, Rob posted a picture of Dream with the quote 'I really miss this girl,,, never felt so in love with someone the way I do with you Dream! Look she has her thumbs up. Never thought a woman would try to take my happiness when all I wanted was to make her Happy. Man this is awful. Closing my eyes cuz this is draining.'
Then the pair began to argue in the comments of that post with Blac Chyna writing 'Rob stop it man ! I sent u this pic !!!!!!' before Rob replied, '@blaccyna and u texting me on my comment section on here proving my point even more. U blocked me and it's f--ked up and I'm heart broken. I loved every inch of you.'
So after all this drama, it appears the two have parted ways and all the Christmas plans they would have made are now seemingly cancelled.
We need a lie down after this big old spectacle.
See you in a bit!
You may also like...