Riverdale's KJ Apa Confesses He Painfully Broke His Hand During Filming But Didn't Tell Anyone
19 June 2017, 15:37 | Updated: 4 December 2017, 11:10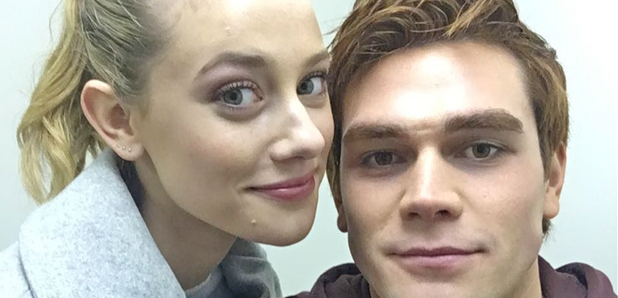 How did he manage to carry on making the show?
So Riverdale is pretty awesome right? Archie and co are incredible characters and played brilliantly by the likes of Cole Sprouse, Lili Reinhart and Camila Mendes - but did you know that KJ Apa, who plays Archie, actually broke his hand during filming?
Yep, he managed to injure himself whilst on camera but carried on filming scenes and didn't tell anybody about it until after everything else was complete!
Riverdale Season 2: What We Know So Far Incl. Release Date, Cast & Spoilers
If you haven't watched the whole of season one, you might want to look away now because there are going to be some minor spoilers moving forward.
Ok now we've got that out of the way, let's crack on!
So you remember the scene in the final episode where Cheryl ends up in the frozen lake and Archie rushes to save her, smashing the ice to pieces with his bare fists? Well it turns out that whilst he wasn't actually punching ice, KJ still managed to break his hand!
In an interview with TV Line, KJ explained, "That was a gnarly day of shooting, I'll tell you that much. I wasn't really punching the ice, but I got a little bit too excited. I was punching a foam mat … [that was] sitting on the ice. … It was cold, so I didn't really feel it. It wasn't until 20 minutes after that I realized I broke my hand. I didn't tell anyone."
It is a seriously intense scene and we get a little bit squemish now just thinking about it tbh.
Turns out that KJ even revealed his secret hand break in a tweet back in April too...
Our finale ep is so good I can't stop thinking about it. Not to mention I broke my hand while shooting it. Mental.

— KJ Apa (@kj_apa) April 24, 2017
Well we're glad his hand is ok now, but maybe let's get the guy some extra padding for any more punching scenes in future please people?
If you thought that story was cool, why not check out this video where rap star Lil Yachty teams up with Jimmy Fallon to fit 59 Simpsons characters into a song!