If You Rushed Home From School As A Kid To See TV Show 'Raven', You're Gonna Want To See What He Looks Like Now
29 September 2017, 12:26 | Updated: 4 December 2017, 11:10
WOAH.
Did you ever used to rush home from school to catch the latest adventures on 'Raven'?
It was the cloak that did it for us. That, and the fact that we desperately wanted to be on the show.
> One Of Your Favourite Tracy Beaker Characters Is Now A Fitness Guru That You're Going To Want To Follow On Insta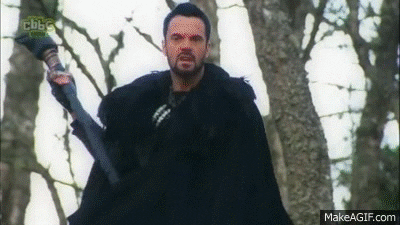 Your inner child is probably going to be thrilled to know that the gameshow is actually gonna be making a comeback.
The show, which originally ran from 2002 until 2010, saw the Scottish warrior lead a group of young contestants through some tough trials. The winner was then crowned the Ultimate Warrior.
However, we couldn't help but wonder what the original Raven - James Mackenzie - is up to know…
… and also what he looks like.
So, we did some digging and here you go:
Amazing lord of bones sporran made especially for @RossOHennessy . How many feathers would you need for a Raven sporran?! #scottishsporrans pic.twitter.com/2IuDOlm12S

— James Mackenzie (@jarmackenzie) July 9, 2017
We know, we've just made dreams come true.
Oh this? It's just the original Hocus Pocus trailer.