PewDiePie Was Evicted From His Flat By A Homophobic Landlord
22 June 2016, 09:47 | Updated: 4 December 2017, 11:10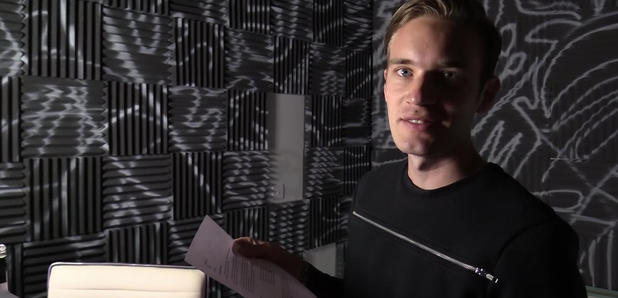 The undisputed king of YouTube was booted out of his flat by a homophobic landlord... despite not actually being gay!
18+ Warning: This article and video contain language some may find offensive.
With over 12 and a half BILLION views and 46 million subscribers, it's safe to say that PewDiePie is an Internet phenomenon, and if you've ever watched is videos (which is pretty much everyone on the planet, TWICE) you'll know that they can get pretty loud...
So it's not surprising that, even with an extremely sound-proofed recording room, his landlord delivered him a noise complaint.
> Repping The UK - The Biggest Homegrown YouTubers Doing Us Proud Worldwide
What IS worrying though, is that it was delivered with a stream of homophobic abuse - even though Pewds, real name Felix Kjellberg, has been dating fellow YouTuber Marzia Bisognin (CutiePieMarzia) since 2011!
To be clear: I made a video, landlord thought I was having gay sex. Comes down to call us faggots. Next day evicted w/o previous notice.

— Felix Kjellberg (@pewdiepie) June 17, 2016
Was planning to fight against the situation, but honestly happy to just move far away from that guy. Got more important shit to deal with.

— Felix Kjellberg (@pewdiepie) June 17, 2016
PewDiePie had just finished filming a HTC Vive video in his living room, where he has extra space to play VR games, when his landlord banged on the door and called him and his crew "fa***ts" - despite being in Brighton, which is home to a strong LGBT+ community.
The cameras were still rolling, so you can watch the confrontation below.
Just days later, Felix received an eviction notice from his landlord, followed by an official noise complaint.
Well it's not all bad, at least two good things came out of this situation for the world's leading YouTuber - he has a lush new apartment with no homophobic landlord, AND has discovered that if vlogging doesn't work out, he can put his talents to other uses...
The good news in all this, is that I'm clearly qualified to be casted for sound bites in gay porn.

— Felix Kjellberg (@pewdiepie) June 17, 2016
You May Also Like...