From Crayons To Five Star Holidays: The Contents Of The $100,000 Oscars Goody Bag Is Seriously Random
27 February 2017, 11:37 | Updated: 4 December 2017, 11:10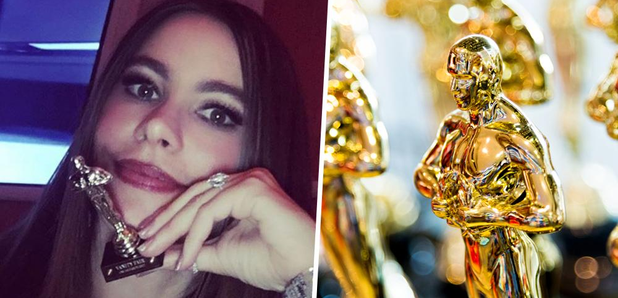 Some of these gifts are seriously random!
When it comes to the film industry, The Oscars is the big, glitzy awards show that we all know and love.
The 2017 ceremony has been slightly overshadowed by mistakes and crossed wires, but there are some things that never change and one of them is the 'swag bag'.
Each year, nominees in the Best Actor & Actress, Best Supporting Actor & Actress and Best Director categories are given a bag of gifts either in the run up to the awards show or just afterwards. These are not created by or endorsed by The Oscars, but instead are created by a private company Distinctive Assets.
They've been providing them to nominees for the last 15 years and the contents of this one is very interesting...
Estimated to be worth approximately $100,000, there are definitely some items that the recipients will love and some that they'll 100% be re-gifting asap!
Here's the full list of items the nominees received this year...
1. Oomi Smart Home ($599 approx)
2. Haze Dual V3 Vaporizer ($250 approx)
3. Luminosity Skin Serum from Healing Saint ($193 approx)
4. A Year's Worth of Car Rentals From Silvercar ($20,000 approx)
5. Naturally non-browning and non-GMO Project verified Opal Apples ($75 approx)
6. A luxury six-day Hawaiian vacation at Koloa Landing Resort at Poipu ($4,000 approx)
7. Personal training sessions with celebrity trainer Alexis Seletzky ($900 approx)
8. BANGARANG Positive Cube: A Wooden Box Filled With Cards With Positive Quotes and Actions ($40 approx)
9. Belldini women's apparel (over $300 approx)
10. Casper advanced dual-layer pillows ($75 approx)
11. ChapStick Total Hydration Moisture + Tint ($5 approx)
12. Chocolatines' Drunken Fig Cake Bites ($35 approx)
13. Chubby Chipmunk Hand-Dipped Chocolates ($45 approx)
14. Crayola My Way customized box of crayons ($13 approx)
15. Curlee Girlee empowering children's book ($11 approx)
16. Dandi Patch underarm sweat patches ($21 approx)
17. Elvie limited edition pelvic floor exercise tracker (and app) ($199 approx)
18. Happiest Tee luxury T-shirts ($89-$118 approx)
19. Hydroxycut Platinum Weightloss Pills ($30 approx)
20. Jules K unique luxury handbags ($370-$395 approx)
21. Lifetime supply of Lizora Pu-erh Tea Nourishing skincare ($31,200 approx)
22. Personal in-house sommelier services from The Loving Somm (unlisted value)
23. Medice Foot Care Kits ($25 approx)
24. MOUS fitness bottle ($28 approx)
25. MuscleTech Nitro-Tech Crunch Bars ($30 approx)
26. Namira Monaco Pole Star Constellation Pendant & Brooch Fine Jewelry
27. Freshly harvested pecans from the National Pecan Shellers Association ($15 approx)
28. A 10-year supply of Oxygenetix Breathable Foundation and Moisturizer (unlisted value)
29. Park and Buzz baguette stud earrings ($35 approx)
30. Reian Williams Fine Art (unlisted value)
31. Rest-Rite Sleep Positioner ($17 approx)
32. Rouge Maple pure organic maple syrup package ($280 approx)
33. Slimware portion-control plates ($30 approx)
34. SweetCheeks cellulite massage mats ($99 approx)
35. Watch Ya' Mouth party game ($20 approx)
36. Woosh Beauty innovative makeup application gift sets ($119 approx)
37. YOGAJEWELZ OM Diamond Bracelets ($595 approx)
38. Golden Door Spa Retreat ($8,850 approx)
39. Grand Hotel Excelsior Vittoria in Sorrento ($5,000 approx)
40. Grand Hotel Tremezzo on Lake Como ($5,000 approx)
41. A fully-private three-day mansion stay at the Lost Coast Ranch in Northern California ($40,000 approx)
42. Personalized Hands-Only CPR Training and a CPR Anytime Kit from the American Heart Association ($40 approx)
A positive cube? A year's worth of car rentals?
Let's just remember that the nominees included Ryan Gosling, Emma Stone and Denzel Washington and they're now the proud owners of a set of Crayola Crayons, a chapstick and some portion-control plates.
We're sure they wont be complaining about the Hawaiian holiday though!
You may also like...