Let Battle Commence… It's Sam Vs. Gaga Vs. The Weeknd In The Oscars 2016 Nominations List!
14 January 2016, 15:55 | Updated: 4 December 2017, 11:10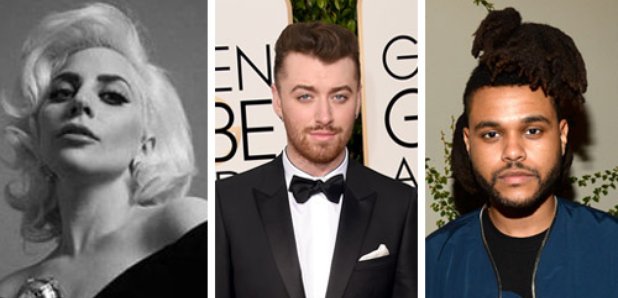 See which films, stars and directors are up for the coveted gongs this year at the Academy Awards.
The stage is set for a pop superstar Battle Royale when three HUGE pop names go head-to-head at the Oscars 2016 next month when Lady Gaga, Sam Smith and The Weeknd ALL compete for the same award.
The official 88th Academy Awards nominations list was revealed in full today (14th January), with the likes of Leonardo DiCaprio, Matt Damon and Jennifer Lawrence all up for big awards this year.
Sam Smith's James Bond theme 'The Writing's On The Wall' for Spectre, Lady Gaga's 'Till It Happens To You' from The Hunting Ground and The Weeknd's 'Earned It' from Fifty Shades Of Grey have ALL been nomination for Best Original Song… and it could be ANY of them that takes the win!
The Academy Awards 2016 ceremony takes place on February 28th 2016 at the Dolby Theatre in California with Chris Rock hosting.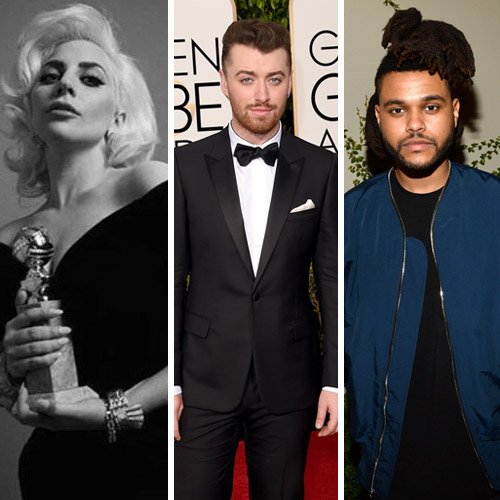 Check out ALL the big nominations categories for the Oscars 2016 below:
Best Picture
The Big Short
Bridge Of Spies
Brooklyn
Mad Max: Fury Road
The Martian
The Revenant
Room
Spotlight
Best Director
Adam McKey (The Big Short)
Alejandro González Iñárritu (The Revenant)
Lenny Abramson (Room)
Tom McCarthy (Spotlight)
Ridley Scott (The Martian)
Best Actor
Bryan Cranston (Trumbo)
Matt Damon (The Martian)
Michael Fassbender (Steve Jobs)
Leonardo DiCaprio (The Revenant)
Eddie Redmayne (The Danish Girl)
Best Actress
Cate Blanchett (Carol)
Brie Larson (Room)
Jennifer Lawrence (Joy)
Charlotte Rampling (45 Years)
Saoirse Ronan Brooklyn
Best Supporting Actor
Christian Bale (The Big Short)
Tom Hardy (The Revenant)
Mark Ruffalo (Spotlight)
Sylvester Stallone (Creed)
Mark Rylance (Bridge of Spies)
Best Supporting Actress
Jennifer Jason Leigh (Hateful Eight)
Rooney Mara (Carol)
Rachel McAdams (Spotlight)
Kate Winslet (Steve Jobs)
Alicia Vikander (The Danish Girl)
Best Original Song
The Weeknd - 'Earned It' (Fifty Shades of Grey)
Sam Smith - 'Writing's on the Wall' (Spectre)
J. Ralph & Antony - 'Manta Ray' (Racing Extinction)
Sumi Jo - 'Simple Song #3' (Youth)
Lady Gaga - 'Till it Happens to You' (The Hunting Ground)
Best Original Screenplay
Matt Charman, Joel & Ethan Coen (Bridge of Spies)
Alex Garland (Ex Machina)
Pete Docter, Meg LeFauve, Josh Cooley, Ronnie del Carmin (Inside Out)
Josh Singer and Tom McCarthy (Spotlight)
Andrea Berloff, Jonathan Herman, S. Leigh Savidge, Alan Wenkus, Andrea Berloff (Straight Outta Compton)
Best Adapted Screenplay
Nick Hornby (Brooklyn)
Adam McKay and Charles Randolph (The Big Short)
Drew Goddard (The Martian)
Phyllis Nagy (Carol)
Emma Donoghue - (Room)
Best Animated Feature Film
Anomalisa
Inside Out
Boy and the World
Shaun of the Sheep
When Marnie Was There
Best Documentary — Feature
Amy
Cartel Land
The Look of Silence
What Happened Miss Simone?
Winter on Fire: Ukraine's Fight for Freedom
You may also like...