This Video Of An Orchestra Covering Nicki Minaj, Jay-Z, Sisqo & Beyonce Is AMAZING!
14 June 2015, 13:24 | Updated: 4 December 2017, 11:10
Hip-Hop History Orchestrated by JIMEK
09:59
Watch the clip that's become a HUGE online viral after covering some of music's biggest names. #HipHopHistory
Imagine heading out to your local concert hall to see an well know orchestra perform live only to be presented by an unexpected showcase of Hip Hop classics, well that's exactly what happened at a recent concert in Poland and the video is fast-becoming a HUGE internet hit!
'Hip-Hop History' orchestrated by JIMEK was recorded at the Polish National Radio Symphony Orchestra Concert Hall, on March 6th & 7th and features chart anthems including Beyonce ' Crazy In Love', Nicki Minaj - 'Anaconda; Kanye West - 'Flashing Lights' and Sisqo classic 'Thong Song'.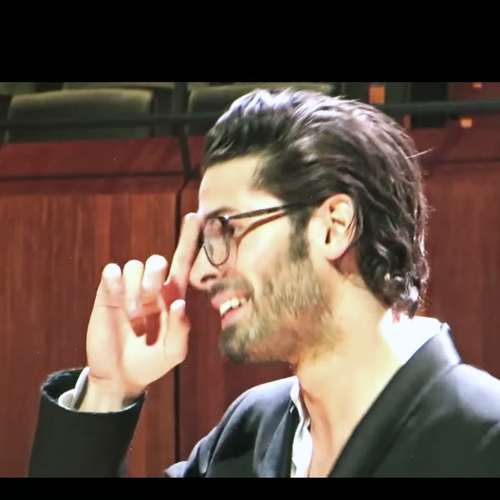 The 9 minute piece showcasing the evolution of Hip Hop also features tracks from the likes of 50 Cent, Missy Elliot, Wiz Khalifa, Snoop Dog and 2Pac.
The video has already clocked up an impressive 720,000 views on YouTube.
Full tracklisting...
1. Kendrick Lamar - Swimming Pools
2. M.I.A. - Bad Girls
3. Wiz Khalifa - Black and Yellow
4. 2Pac - Dear Mama
5. Cam'Ron - Hey Ma
5. Barry White - Basketball Jones /feat. Chris Rock
6. Jay-Z - Girls Girls Girls (Tom Brock)
7. Tribe Called Quest - Electric Relaxation
8. Wu-Tang Clan - C.R.E.A.M
9. Mobb Deep - Give Up The Goods
10. Kanye West - Flashing Lights
11. 50 Cent - In Da Club
12. 50 Cent - Outta Control /feat. Mobb Deep
13. Jay-Z - Lost One
14. Jay-Z - Roc Boys
15. Beastie Boys - Sure Shot
16. Nas - Nas is Like
17. Dr. Dre - Still D.R.E.
18. Xzibit - Alcoholic
19. Missy Elliott - Get Your Freak On
20. Dr. Dre - What's the Difference feat. Eminem
21. M.O.P. - Cold As Ice
22. M.O.P. - Ante Up
23. Pharoahe Monch - Simon Says
24. Beyoncé - Crazy In Love
25. Snoop Dogg - Drop It Like Its Hot feat. Pharell
26. Sisqo - Thong Song
27. Nicky Minaj - Anaconda
28. Wu-Tang Clan - Gravel Pit
29. Baauer - Harlem Shake
30. JIMEK x Pezet - Nie Muszę Wracać