14 Reasons Why Noel Fielding Will Be Your New Favourite GBBO Host
21 March 2017, 11:42 | Updated: 4 December 2017, 11:10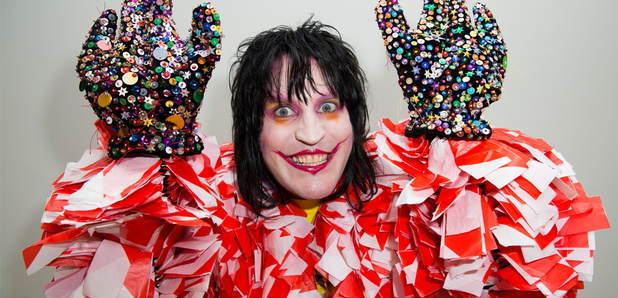 He'll certainly bit a bit of a change for regular GBBO viewers!
Since the news broke that Noel Fielding and Sandy Torsvig are set to become the brand new hosts of the Great British Bake Off, the pair have received mixed reviews.
Before a baking tray has even been greased, we've seen some less than favourable views on Noel as a potential presenter of the show, so we've put together 14 reasons why we think he's going to be incredible.
So let's begin shall we?
GIF: GIPHY
1. His entrance into the GBBO tent each week is sure to be stunning...
GIF: GIPHY
2. If one of his favourite contestants is voted out by the judges, he would probably be like...
GIF: GIPHY
3. He can pick out the flavours in literally any type of baked goods...
GIF: GIPHY
4. His baking themed musical puns are undoubtedly gonna be superb...
GIF: GIPHY
5. There's so much potential for him to have the greatest bromance with Paul Hollywood...
GIF: GIPHY
6. He's sure to bring an array of characters to the proceedings...
GIF: GIPHY
7. If you thought Mary Berry was the only one with those subliminal puns...
GIF: GIPHY
8. When one of the contestants designs the most amazingly beautiful Gingerbread Shortbread House you've ever seen...
GIF: GIPHY
9. If he disagrees with the judges comments...
GIF: GIPHY
10. If anyone drops sly digs at him and Sandy not being as good as Mel & Sue...
GIF: GIPHY
11. Let's just hope no one makes any Llama themed cakes...
GIF: GIPHY
12. Noel's mum will have to get used to the #GBBO hashtag trending every week...
GIF: GIPHY
13. Noel's outfits are guaranteed to be amazing every time he steps foot inside the famous tent...
GIF: GIPHY
14. He talks to snakes, so by process of rhyming elimination he should be able to talk to cakes too, right?
GIF: GIPHY
So now can we all agree that Noel Fielding is going to be a brilliant GBBO host please?
Yay!
You may also like...