MTV Movie Awards 2015 – Channing Tatum Twerking, Zac Efron Topless And All The Winners
13 April 2015, 15:58 | Updated: 4 December 2017, 11:10
It was all about the movie award winners at the MTV Movie Awards – but two VERY hot men stole the show a bit!
Phew. As if the sight of Channing Tatum himself wasn't enough, him wiggling his little booty around the stage is enough to give women heart palpitations – and that's one of the things that happened at this year's MTV Movie Awards.
Presenting Jennifer Lopez with an award, Channing took to the stage with his Magic Mike XXL co stars – and the man himself treated JLo to a cheeky little twerk. Somebody fan us!
And if Channing's butt wasn't hot enough, when it came to Zac Efron and Dave Franco accepting their award for Best Duo, the pair came on in their Bad Neighbours characters – and Zac left his shirt at home.
Zac's topless acceptance was helped by Dave who whipped his jacket open for an extra flash of flesh – but Zac got his own back by grabbing Dave's crotch. Frisky!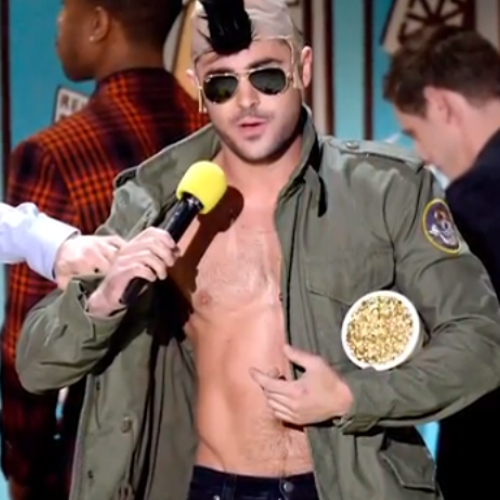 But there was a point to all this flagrant nudity and suggestive dancing – the winners. Check out the full list below:
Movie Of The Year presented by Geico - The Fault in Our Stars (Twentieth Century Fox Film Corporation)
Best Female Performance - Shailene Woodley, The Fault in Our Stars (Twentieth Century Fox Film Corporation)
Best Male Performance - Bradley Cooper, American Sniper (Warner Bros.)
Best Scared-As-S**t Performance - Jennifer Lopez, The Boy Next Door (Universal Pictures)
Breakthrough Performance - Dylan O'Brien, The Maze Runner (Twentieth Century Fox Film Corporation)
Best Shirtless Performance - Zac Efron, Neighbors (Universal Pictures)
Best Duo - Zac Efron & Dave Franco, Neighbors (Universal Pictures)
Best Fight - Dylan O'Brien vs. Will Poulter, The Maze Runner (Twentieth Century Fox Film Corporation)
Best Kiss - Ansel Elgort & Shailene Woodley, The Fault in Our Stars (Twentieth Century Fox Film Corporation)
Best WTF Moment - Seth Rogen & Rose Byrne, Neighbors (Universal Pictures)
Best Villain - Meryl Streep, Into the Woods (Walt Disney Studio Motion Pictures)
Best Musical Moment - Jennifer Lawrence, The Hunger Games: Mockingjay – Part 1 (Lionsgate)
Best Comedic Performance - Channing Tatum, 22 Jump Street (Columbia Pictures/MGM)
Best On-Screen Transformation - Elizabeth Banks, The Hunger Games: Mockingjay – Part 1 (Lionsgate)
Best Hero - Dylan O'Brien, The Maze Runner (Twentieth Century Fox Film Corporation)