From Injuries & Baby News To Fights On Stage - The 9 Most SHOCKING Moments of 2015
23 December 2015, 10:38 | Updated: 4 December 2017, 11:10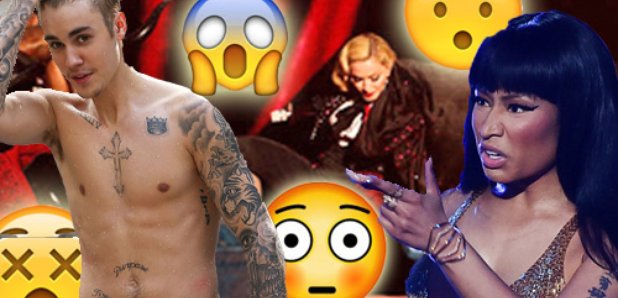 It's been a whirlwind of a year... and those celebs have definitely kept us on our toes when it comes to shocking announcements, feuds and more!
2015 was one heck of a year for shocking celebrity moments - it was quite literally a rollercoaster of emotions, with stars leaving chart topping bands, others injuring themselves on stage and a whole lot of nudity too. Check out our pick of the most shocking moments of 2015...
1. Nicki Minaj calling Miley Cyrus out on stage at the MTV VMAs
Miley was hosting the show, but Nicki didn't take too kindly to some comments Miley had apparently said about her in the press and called her out as she collected her award, and the infamous phrase 'Miley, what's good?!' was born. (NB. It's a bit sweary, so not one for the easily offended!)
2. Madonna falling off stage backwards thanks to a malfunctioning cape at the BRIT Awards
This was without doubt the biggest 'GASP' moment from the BRIT awards back in February, as Madge was dragged backwards down some steps BY HER NECK as an overzealous dancer pulled on her cape... which didn't come apart as planned and instead caused Madonna's scary fall. Thankfully she was alright and finished her performance like a total pro, obvs.
3. Zayn Malik announcing he was quitting One Direction... then fighting the world on Twitter
As if the news that Mr Malik was leaving 1D wasn't enough, we then had weeks of him falling out with his former pal Naughty Boy and Calvin Harris on Twitter, his break up from Perrie Edwards and him throwing some serious shade at her band Little Mix. Thankfully, Zayn seems to be in a better place now... and that new music is just round the corner, too!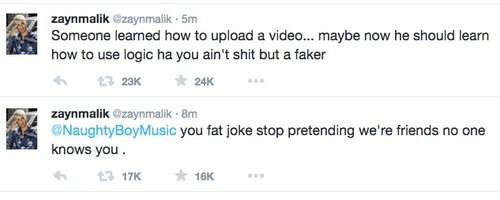 4. Kanye West announcing that he was running for President of the USA in 2020... as you do!
Never let it be said that Kanye West doesn't believe in himself... the outspoken star surprised the world at the MTV VMAs by announcing his plans to run for presidency in five years time. Well, he's already conquered the music and fashion worlds, so running his country is the OBVIOUS next step...
5. Enrique Iglesias made the world wince when he nearly sliced his fingers off with a drone during a show, needing serious surgery on his injuries
The Latin love god normally grabs the drone cameras for a close up during his shows, but it went seriously wrong during a performance in Mexico when he got his fingers trapped in one of the propellers and sliced his hand. Being a total trooper, Enrique got his hand bandaged up and carried on the show regardless of the fact he was bleeding profusely through the dressing, getting blood all over his white t-shirt in the process. The incident ended up with Enrique requiring some serious surgery to fix his hand but thankfully it seems to be fine now.
6. Kim Kardashian went full Draco Malfoy with her shocking bleach blonde hairdo
Oh Kimmy, we much prefer your natural locks - the reality TV star shocked the world when she debuted a new platinum blonde look, which was over nearly as soon as it arrived as she dyed her hair back to brown soon after. Still, the amount of memes it spawned was TOTALLY worth the inevitable hair damage it caused. Probably.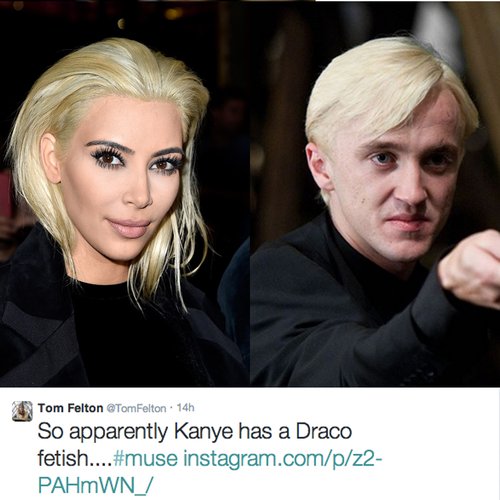 7. Justin Bieber was tapped fully naked... but his dad's reaction to the photos totally grossed out the entire planet
As if having your actual peen on full display to the world wasn't bad enough, Justin's dad's slightly misjudged and definitely less-funny-than-intended reaction was so SO much worse. *Full body shudder*
Justin Bieber nude in Bora Bora - New York Daily @JustinBieberFan @Abyzzle @nievafrancesca bibz hu hahaha pic.twitter.com/DCNeOZVl0g

— King Niña (@NinyaBanshee) November 27, 2015
When JB's nudes were released his dad asked him "what do you feed that thing?!"

— Kenzie Drake (@MissKaeee) November 25, 2015
8. Madonna snogged Drake's face off on stage... and he appeared to look pretty traumatised by the whole thing
Oh Madge. The kiss was bad enough but the amount of memes of Drake's reaction was way, way worse. Some people just aren't that keen to swap saliva with a stranger, it seems!
DRAKE'S REACTION AFTER KISSING MADONNA pic.twitter.com/0v5xjX7VOC

— Krystin Locicero (@KrystinLocicero) November 10, 2015
9. Louis Tomlinson announced that he's going to be a father after getting his friend Briana Jungwirth pregnant
The collective jaws of about 80% of the world dropped when the news was confirmed that Louis Tomlinson was going to be father to the first One Direction baby... and the mother was his pal Briana Jungwirth. The speculation had been mounting, and although the couple aren't together, Louis has said he is excited for their new arrival.