BRIT Awards: Most Memorable Duets Of All Time
18 February 2014, 09:17 | Updated: 4 December 2017, 11:10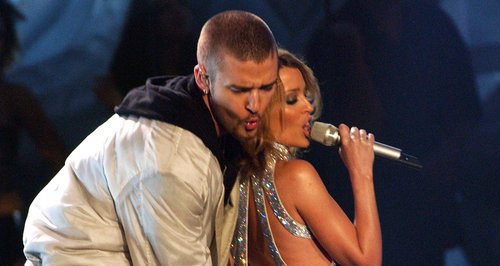 With Lorde and Disclosure teaming up together this year, we're taking a look back at those duets which we can never forget about.
Almost every year at the BRIT Awards there is an on stage moment that gets the whole world talking. We've seen Justin Timberlake grabbing Kylie's bum. Robbie Williams gyrating around in leather alongside Sir Tom Jones and Lady Gaga joining forces with the Pet Shop Boys.
In 2014, it will be the turn of Lorde and Disclosure to steal the show and we're sure they will. Join Capital as we take a look back over the years at some of the most memorable duets to have ever occurred on stage at the BRIT Awards.
2009: Dizzee Rascal & Florence Welch - 'You Got The Dirtee Love'
A suited and booted Dizzee took to the stage first before Florence emerged from a giant disco ball. There were more harps on stage than at a Guinness business convention and it was the perfect end to a fantastic 12 months for both stars. The performance also came shortly after Florence had won Album Of The Year - not a bad night at all!
2009: Pet Shop Boys, Lady Gaga & Brandon Flowers - 'West End Girls'
It was the Outstanding Contribution To Music performance from Neil Tennant and Chris Lowe and the electro-pop stars decided to enlist the help of The Killers' frontman and Gaga to close out the 2009 ceremony. Now THAT's how to sign off in style.
2008: Rihanna & The Klaxons - 'Umbrella'
What happens when you merge new rave indie rock with the biggest female star on the planet? A duet at the 2008 BRIT Awards is what. It was one of the most unlikely performances the show has ever seen and it will certainly take some beating.
1998: Robbie Williams & Sir Tom Jones - 'Make Me Smile (Come Up and See Me)/ Land Of 100 Dances'
We're fairly sure Robbie would rather forget this leather ensemble and those dance moves but we can't forget this moment of him joining forces with Sir Tom Jones. It was very much a passing of the male solo artist crown and cemented Robbie as the most talked about star of the decade.
2008: Mark Ronson & Adele, Amy Winehouse, Daniel Merriweather
So first up was Adele to lend her vocals for a cover of 'God Put A Smile Upon Your Face' by Coldplay, then Daniel dropped his version of The Smiths' 'Stop Me' before Amy triumphed with 'Valerie'. As far as medley performances go, this has to be up there with the best.
2003: Kylie Minogue & Justin Timberlake - 'Rapture'
It was the bum-pinch heard around the world as Justin got a little 'handsy' on stage with the Australian superstar. He'd just ran through a medley of his biggest hits when Kylie joined him for a special cover of the Blondie song 'Rapture'.
2010: Jay-Z & Alicia Keys - 'Empire State Of Mind'
The rapper brought his ode to New York over to London in 2010 for one of the performances of the night. The track was still very much in everyone's minds when they brought it to the O2 Arena stage having spent all summer and winter dominating charts around the world. 2010 was a busy line-up but these two stood proudly among the best of the night.