Looks Like That Baby Challenge Got Kem & Amber Broody Cos Montana Already Knows What They're Calling Their First Born!
25 July 2017, 16:12 | Updated: 4 December 2017, 11:10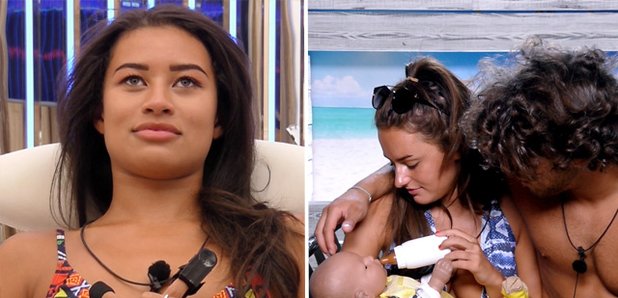 We caught up with Alex and Montana and chatted all things Love Island.
NGL, when Montana and Alex left the villa, we shed a little tear or two.
They were one of our favourite couples - they never argued, they were beyond beautiful and Alex was just a bit of a babe when he entered the villa and swept Montana off her feet.
> Alex's Mum Has Revealed How She Really Feels About Him Having Sex On Love Island... & On National TV We caught up with the ex-Islanders about all the drama inside and outside of the villa and it's everything that you could've hoped for.
Naturally, they were delighted when Kem and Amber were announced the winners of Love Island 2017.
"I personally think the right couple won", Montana revealed, whilst Alex commented, "Amber and Kem are a very strong couple so I'm obviously buzzing to see that they've won it".
Squad goals.
They also went on to reveal that winning Love Island isn't the only thing in Kember's future, as apparently babies are 100% on Amber's radar.
When asked who they thought would be the first to follow in 2016's Cara De La Hoyde and Nathan Massey's footsteps by having a baby, Montana and Alex both replied: Kem and Amber.
"Amber and I have already spoken about this and I am going to be the godparent to her first child and it's going to be called Olive", Montana buzzed.
Although, surprisingly, Alex reckons that Jamie might be engaged before the 2017 winners! "I think their newer in a relationship but they'll progress quite quick on the outside", he quipped, before continuing, "They have lots of love for each other".
CUTE.
P.S. We just unearthed footage of Olivia as a Monster Girl...