Mean Girls' Damian Just Got Engaged In The SWEETEST Way!
19 July 2016, 16:34 | Updated: 4 December 2017, 11:10
BE STILL, OUR BEATING HEARTS!
You go, Glen Coco Daniel Franzese!
The American actor - who played Damian in the cult 2004 movie - proposed to his boyfriend in the North Hollywood branch of Starbucks, where they met 2 years ago.
Daniel planned to pop the question to Joseph Bradley Phillips in a special way, by getting the coffee shop's barista to call "Mr and Mr Franzese" when their drinks were ready.
She then switched the unsuspecting boyfriend's order with another drink, which she said was a new drink he should try... and it only had an engagement ring in it!
#MeanGirls' star @WhatsupDanny is engaged! See the touching moment—and ring https://t.co/y6f8GLMwL1 pic.twitter.com/1rpcCYk89r

— People Magazine (@people) 18 July 2016
Taking it back to the traditional route, Danny then got down on one knee and popped the question officially;
"Since I first saw you here, you have opened your heart to me, and I vow to God that for the rest of my life to honor and protect that heart if you will be my husband. Will you marry me?"
OBVIOUSLY the answer was "yes"!
Love to all who have expressed joy for our engagement! We are beyond happy and so lifted. #loveislove @Joeysaidthat loves @WhatsupDanny

— Daniel Franzese (@WhatsupDanny) July 19, 2016
BE STILL, OUR BEATING HEARTS!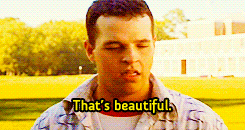 You May Also Like...