Marnie Simpson & Casey Johnson Are Filming A Dating Show But Hooking Up With Each Other
3 July 2017, 10:52 | Updated: 4 December 2017, 11:10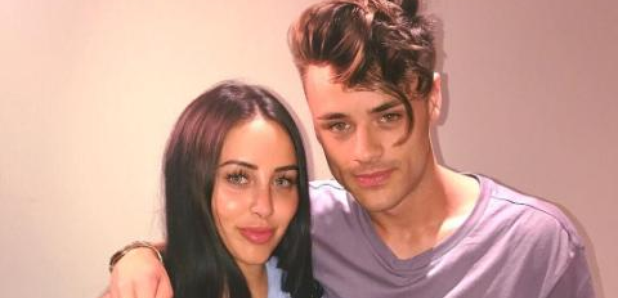 Needless to say, MTV bosses are less than happy with the set up…
MTV bosses didn't know quite what they were letting themselves in for when they signed Geordie Shore's Marnie Simpson and ex-Stereo Kicks and Union J singer Casey Johnson for their new dating show… as they've ended up hooking up together instead!
The pair are starring on Single AF which is currently in production, and is supposed to see celebs go on dates with fans they have found using their social media accounts… not hook up with the other celebs on the show.
Understandably, MTV bosses are less than pleased with this turn of events just a week into filming, as a source told The Sun, "MTV are not happy. They signed them as singletons looking for love and going on dates, but they're only interested in each other and not taking the show seriously.
"Worse still, they are doing nothing to hide their feelings and have been posting loved-up videos and pictures on social media. It's like they've just been given a free couples holiday!
"It's the first time anyone has done a live dating show so MTV are putting a lot of effort in – it's just a shame Marnie and Casey only have eyes for eachother."
The show is the first live dating show and will also star the likes of Teen Mom Farrah Abraham and Jedward, and the developing romance between Marnie and Casey hasn't gone unnoticed by fans, either.
Ah here Marnie and Casey are in bed together like are they doing the show at all or are they just being allowed to crack on with eachother?

— Zena Coyle (@Zenacoyle_x) July 2, 2017
Oh my god Marnie & Casey? Like really? Together? And LOVE too???!!! You know this is a shock you guys #MTVsingleAF #SarcasmAF

— Sasha (@SashaAnimator) July 1, 2017
OHMYGOD MARNIE AND CASEY CODY WILL MAKE SUCH A CUTE COUPLE #mtvsingleaf

— Amaara Mahomed (@amaara_mahomed) July 1, 2017
Swear the point of Marnie and Casey going on that MTV show was to date randoms, not each other ????

— Ë (@EvieG__) June 30, 2017
Marnie and Casey aren't really promoting Single AF very well with the way the look at each other

— becs whittaker (@121_becca) June 30, 2017
I thought I shipped @MarnieGShore and Aaron but now it's all about Casey and Marnie = MASEY / CARNIE

— ImWendyThompson (@WendyTh75806353) June 30, 2017
Before the show launched, Casey had already admitted to fancying Marnie, telling The Sun, "I fancy Marnie! She's hot. She's up for the craic, I hate girls that are too heavy – I just want someone I can have a laugh with!
"I think Marnie is so fit. I know she fancies me! We've been talking a bit – when we found out we've been doing the show we started texting and now we're texting a bit. But we haven't done anything because we wanted to save it. We've been talking quite a lot."