Why Is Everyone Freaking Out About Camila's Workout Clothes & Why Is Jessica Wearing A Wedding Ring? #LoveIsland
8 June 2017, 13:28 | Updated: 4 December 2017, 11:10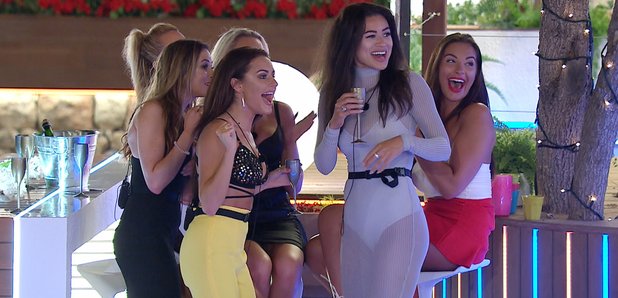 So. Many. Questions.
Another episode of Love Island, another cause for controversy.
Except this time fans of the show had two reasons to tweet.
> Love Island 2016: Where Are Our Favourite Couples Now?
First of all, people were commenting on Camilla's choice of workout wear and to be honest, we don't get it.
She's in a really hot country and decided to head to the garden gym to work up a sweat. Wearing a pair of shorts and a top, everyone was commending her for covering up. Forgive us, but isn't that normal workout attire?
The boys on the show were even commenting on it with Dom claiming that 'Camilla is so respectful in every way' before proceeding to state that 'all the girls are in bikinis and she's in shorts and t-shirt… the self-respect she has for herself is wife material'. Kem agreed and piped up stating that 'it is wife material'.
Quick question: why can't you workout in a bikini if you want to?
Camilla is probably the most confident girl in the villa. Just cause she's covered up, it's called self respect girls. #loveIsland

— bowmanboi (@Annamaelilyxx) June 8, 2017
All the boys talking about Camilla,how she's respectful & 'wifey material'.Then Kem saying '&we're all just idiots'.Sums it up #LoveIsland

— Rachel (@_rachellamy_) June 8, 2017
People being nasty about Camilla cos she actually has some class and intelligence and is dignified. Leave the girl be! #Loveisland

— Sophie Isabella (@sophiebellaxx) June 8, 2017
On to the second point that got Twitter talking.
Why is Jess wearing a wedding ring?
Answer: we have absolutely no idea.
Why does Jess wear a wedding ring, baffling me #LoveIsland

— Emma Howard (@elhoward9) June 8, 2017
Why does Jess wear a wedding ring?? Baffling me. #LoveIsland

— Emma Walker (@Emzelemore) June 8, 2017
However, this isn't the only reason that Jess got people talking, particularly ex-Islander Kady McDermott.
When Jessica entered the villa, she decided to deliberately upset Montana and picked her partner, Dom, to couple up with. However, Kady was very unimpressed and revealed that she thinks Jessica "didn't have to be a b***h about it".
Well, we're only a few days in and it's already kicking off.
Oh, and we're just going to leave this here to blow your mind.
I'm sorry but Camilla REALLY looks like Alison from PLL #Loveisland pic.twitter.com/UoHRZwFbtJ

— hollie wingrove (@holliewingrove_) June 8, 2017
Remember when Cara and Nathan became parents on the show?