Love Island Fans Reckon That Craig Just Let Slip That The Show Might Be 'Fixed'
5 July 2017, 16:47 | Updated: 4 December 2017, 11:10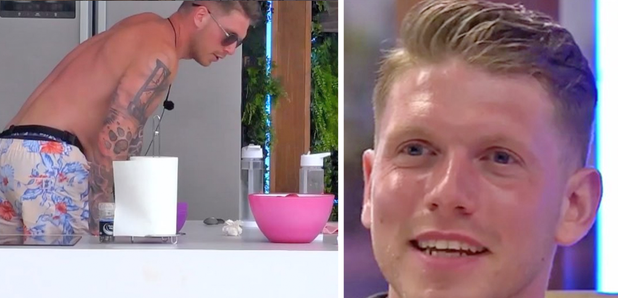 Could it really all be a lie?
Fans reckon that Love Island might be fixed as they claim that Craig has had contact with the outside world.
Obviously, the entire premise of the show is that a group of singletons are thrown into a villa with the aim of falling in love.
> Love Island's Jonny Has Been Keeping A Big Secret From His Fellow Islanders
The scene in question saw Craig gushing about his up-and-down romance with Camilla and likened them to Professor Green and ex Made in Chelsea star, Millie Mackintosh.
We presume he just used them as a reference of how two polar opposites can make a relationship work.
However, it wasn't the comment as such that twigged viewers interest but more the fact that the comparison had been made by fans of the show already - but after Craig had gone into the villa.
Some people have called Craig a "budget" version of the rapper, but only after he had entered the villa.
Craig and Camilla are the new Professor Green and Millie Mackintosh #LoveIsland

— Jennifer Journo (@JenniferRDxo) June 29, 2017
Craig and Camilla.. pro green and Millie macintosh all over again #LoveIsland

— april (@aprilburton21) June 29, 2017
Obviously, there is of course the option that he merely follows popular culture and is a big fan of Professor Green.
However, some fans were less forgiving and instantly thought that the show was fixed and that contestants have more contact than they let on to the outside world.
Wait. How does slimey Craig know about the 'Pro Green Millie Mc' references?! I thought they weren't allowed outside interaction?#LoveIsIand

— Charlotte (@CharlotteCroft) July 4, 2017
Anyone else baffed at how Craig knows about the Prof Green & Millie Mackintosh thing?@camillathurlow wasn't impressed#LoveIsland

— #TeamCammy (@cammysgirl_) July 4, 2017
#loveisland do they see any media while in the house of whats being said.just craig said 2 cam"your not ready 2b millie mcintosh"(pro green)

— Jennifer blaylock (@Jenniferblaylo5) July 5, 2017
Craig has been in the Villa,how does he know we see them as Pro Green & Millie? He thunk it B4 he went in.Proof it's all a game#LoveIsland

— Nadia Essex (@LadyNadiaEssex) July 4, 2017
Remember when Camilla dumped Jonny for Craig?