Ex Love Island Contestant Chloe Has Outed Camilla & Finally Explained What The F Is Going On With Her Eyelashes
20 July 2017, 17:05 | Updated: 4 December 2017, 11:10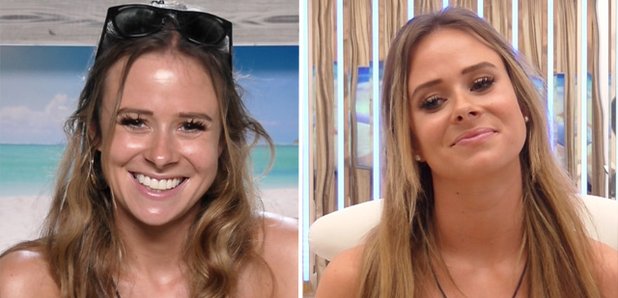 This is the news that we all really care about.
If you've been watching Love Island and wondering what the hell is going on with Camilla's eyelashes then strangely, you're not alone.
Dozens of people have taken to Twitter to express their annoyance at one particular part of Cam's beauty regime.
> 'Love Island' Received Tonnes Of Complaints For One Thing (And It's Not That Late Night Raunchiness!) And now it seems that her ex fellow contestant, Chloe Crowhurst has finally uncovered the truth and put us all out of our misery.
Camilla's eyelashes have left viewers divided - with some saying that they look like 'spiders' whilst others have asked why the girls haven't offered to help Camilla out.
Someone needs to give Camilla a new set of eyelashes, a wee trim of that singed hair and tell her she's good enough x

— Katrina Mitchell (@x_katmitchell) July 18, 2017
as much as I love camilla if the girls in there were her real friends they'd tell her it's time for these eyelashes to go in the bin pic.twitter.com/0cYXWFwlez

— suraya (@surrayax) July 17, 2017
If Camilla's eyelashes can make it through 7 weeks of #loveisland you can make it through today

— Pink Boutique (@PinkBoutiqueUK) July 19, 2017
Camilla's eyelashes #alittlebitleaveit #loveisland pic.twitter.com/DTHTX9qL0z

— krb_ldn (@KayRobbie1) July 14, 2017
Question: Camilla, have you taken those eyelashes off since you came in the villa..?

Camilla: Yes

LIE#LoveIsland

— The Notorious D.O.D (@SUPERM4RK) July 18, 2017
Liberty the lasses in the villa not telling camilla her eyelashes have seen better days

— Gavin Bushell (@gavin45) July 16, 2017
The amount that camilla's cried I'm not surprised her eyelashes are like that

— Kirsty Black (@kirstyb10) July 20, 2017
Know I shouldn't judge but Camilla's eyelashes do my nut in #LoveIsland

— Carla (@__carlajane) July 19, 2017
She's literally so cute but ..... camilla .... ya eyelashes make me uncomfortable babe

— deja vu (@dejasevans) July 19, 2017
Hey everyone, when are we going to discuss Camilla's eyelashes?

— Scar the Villain (@tumiatolagbe) July 19, 2017
Even Geordie Shore's Chloe Ferry asked how she got her eyelash extensions to last so long!
To which, Love Island Chloe took it upon herself to let the secret out of the bag:
"She does them herself everyday!!!!".
She does them herself everyday!!!!

— Chloë Crowhurst (@chloecrowhurst_) July 18, 2017
WHAT DOES THAT EVEN MEAN!?
Surely Camilla can't be giving herself extensions everyday, so we presume Chloe means that she's applying mascara everyday, and for any girl who has had eyelash extensions before - you'll know how bad that is.
We played Would You Rather? with Olivia Buckland from 2016's Love Island...