People Are Fuming At The Tinder Glitch That Lost Their Matches, Here's How You Can Get Them Back!
5 April 2018, 16:36 | Updated: 5 April 2018, 16:43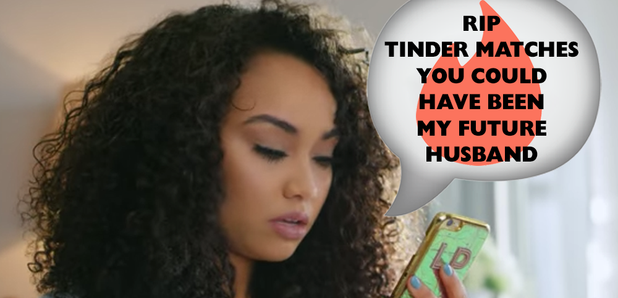 People have been going into meltdown after losing all of their matches, but there may still be a way to retrieve them.
As a result of Facebook privacy changes, Tinder was temporarily down last night and had wiped people's matches upon its return.
People have unleashed on Twitter and simultaneously revealed just HOW much they had invested into the dating app today.
A technical fault was preventing people from logging in and upon their glorious return to swiping and flirting with their sacred bank of matches- found they were all deleted.
Tinder quickly published a statement of apology about the logging in problem, but that was the least of people's problems.
And people are losing their minds.
tinder seriously please take me back. i'm sorry.

— Kimberly Te (@Kooliokookie) April 5, 2018
Having sifted through mountains of people to find the chosen ones they matched to, losing them means users have lost their potential partners FOREVER.
TINDER DELETED ALL MY MATCHES SO IF YOU KNOW A TYLER WHO USED TO WORK AT LOVERS LANE, GOES/WENT TO IVY TECH, HE HAS SHORT LITTLE DREADS HE LOOKS MIXED PLEASE LET ME KNOW I AM COMPLETELY DEAD SERIOUS

— annie !!! (@magannieannie) April 4, 2018
Some people have taken to Twitter in a desperate bid to mourn their lost Tinder dates.

Dear gentle soul, I was so looking forward to Wes Anderson with you tonight!

But Tinder reset my profile & matches, for reasons most mysterious, & I am heartbreakingly forced to stand you up!

Thus ends the short but tragic tale of Tinder-crossed potential-lovers

— Laura Jean Truman (@LauraJeanTruman) April 5, 2018
Yo, @Tinder needs to fix this glitch ASAP cause I was supposed to be having a date in few minutes but uh its going to be super difficult when I can't login to finish working the kinks out of the details!!!

— Braeden (@Braeden1994) April 4, 2018
Others face an even greater challenge, claiming to have a hot dinner date organised with none other than BagGalRiRi but will now never be able to reconnect with the superstar... they PROMISE they aren't lying.
Hey @Tinder I'm pretty sure I matched with Rihanna just before crash - you'll have to take my word for it. She's not appearing in my matches - can you please sort out?

— T J McGinley (@tjmcginley) April 4, 2018
There is a sneaky way to get around this though, as some users are saying that the desktop version still has the messages and matches from before the glitch. Phew.
Good news everyone, Tinder still works on the desktop version, if you can get a computer haha. #tinderfail

— Jason Bentley (@swampyjason) 4 April 2018
The app is fully back up and running and Tinder, full of apologies, even left users with an important lesson in love.
And we're back! Apologies for the inconvenience. We missed you too. pic.twitter.com/796L1gLsCv

— Tinder (@Tinder) April 4, 2018
Watch Jason Derulo talk about his Tinder tips