Sprite Now Comes In Cucumber Flavour & People Are Freaking Out
20 April 2018, 17:06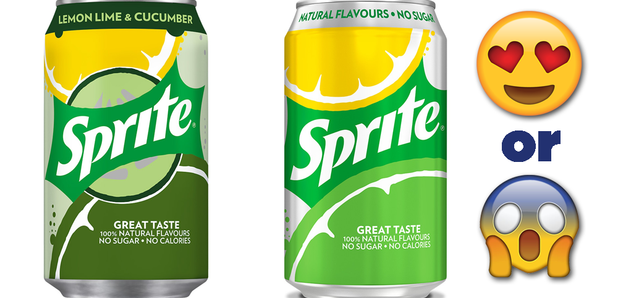 We've got a feeling this is gonna be a love it/hate it for Summer 18.
We're having a bit of a sunny spell right now, so the drinks are certainly flowing. Everyone's got their favourites and drinking a nice cold can is just that little bit sweeter in the sun.
But will you be knocking back an ice cold can of Sprite Lemon Lime & Cucumber flavour this summer?
> Here's Everything You Were Obsessed With In 2008 (And Most Of Them Should Just Stay In 2008)

That's right, Coca Cola have created Lemon Lime & Cucumber flavoured Sprite and we don't really know how to feel!

GIF: Giphy
Thankfully we're not the only ones who don't know how to feel about this whole thing and actually people are kinda freaking out about it...
OMG CAN U BELIEVE CUCUMBER SPRITE IS A THING

— the empress (@ashleigh_xcx) April 19, 2018
Wash this down with your cucumber sprite @RayZinderbar pic.twitter.com/Pq2OlX7zWy

— David B (@RoccoBroad) April 18, 2018
It was a hot day today and I needed to grab lunch, so in the rush, I decided to buy what I thought was a normal bottle of Sprite. It actually ended up tasting like liquid salad and I realised it was cucumber flavour. Why does this god-awful flavour exist? pic.twitter.com/KxgwJWF3Aj

— Liam O'Dell (@lifeofathinker) April 19, 2018
I didn't realise I bought a Sprite with cucumber in it but it's surprisingly nice pic.twitter.com/mJNtGdzT5X

— Josh Fell (@Fellj01) April 19, 2018
So what are you saying? Off to hunt a can down ASAP or wishing you never knew this was a thing?
> Download Our Free App Now For Loads More News!
Whilst you're here, check out this hilarious video for microwaving your beauty blender...