Guy Loses His Job At Abercrombie & Fitch, Takes Himself Some Sweet Sweet Revenge
17 July 2018, 17:19 | Updated: 17 July 2018, 17:23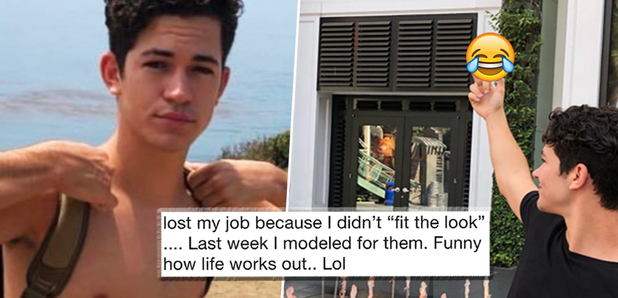 When this American teen was fired from Abercrombie & Fitch for not 'fitting the look', he revisited the store once he was an official model for the brand and took his revenge...
There's nothing like the sweet taste of revenge, something this American teenager @ColtonPappas knows all too well after he landed a modelling job with US fashion giant Abercrombie & Fitch, and used the amazing opportunity to revisit the old store that he was fired from for not "fitting the look" and flip it a very rude sign which we could never specify, unless you looked at it below in his tweet, that is.
Last year I worked at this Abercrombie & lost my job because I didn't "fit the look" .... Last week I modeled for them. Funny how life works out.. Lol pic.twitter.com/pQzlCeUOfS

— Colton (@ColtonPappas) July 16, 2018
Throughout his tweet thread, he goes on to say he loves the brand, and even applauds them for becoming more diverse in who they select for to model, and says the only person he's aiming that middle finger is at his store manager for discriminating against him.
"Tables turn, bridges burn, you live n learn" bro played out a whole drake line w this .. https://t.co/R0BR4jSptC

— Swavey Vic (@swaveyvicc) July 17, 2018
now this is exactly how you bounce back https://t.co/4XQJ8aF2TA

— maria (@xx_mg_) July 16, 2018
We've all had that one manager, hun. Imagine what will happen if he sees him printed on the carrier bags?!
Download Our Brand New App For All The Latest Trending News