Everyone's Shocked By Lauren Goodger's New Giant Lips In Her Latest Video
3 September 2018, 16:09 | Updated: 3 September 2018, 16:32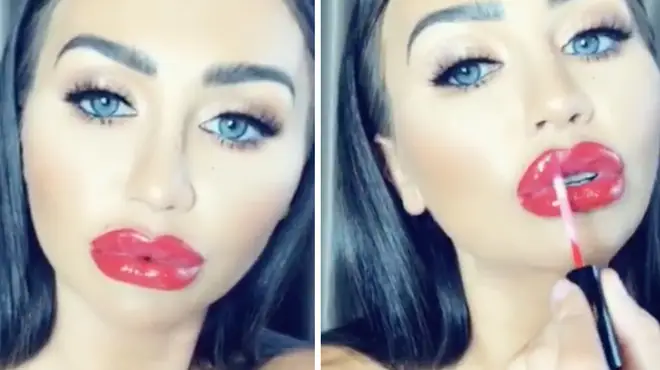 Fans took to the comments to voice their concerns after the former TOWIE star supersized her pout with fillers.
Lauren Goodger has never denied she's had a surgical procedure or two, but fans were pretty shocked when they saw her lips in her latest Instagram photo.
QUIZ – See If You're The Ultimate TOWIE Fan By Matching Who's Dated Who
Lauren posted a video of her promoting her new lipgloss collaboration with a brand, but fans were more distracted by the size of her lips, as the red gloss made them appear even larger than ever before.
Fans were quick to voice their concerns, telling Lauren that she is naturally beautiful and warning her off having any more filler injected into her pout.
Lauren Goodger is such a pretty girl but my god those lips 😩 WHY?

— Lisa Smyth (@lisamariesmyth1) September 2, 2018
Advisory: Please don't make the same mistake as Lauren Goodger has and plump up your lips, you're much more beautiful without that kind of thing... and please don't feel pressured to conform to these ridiculous beauty 'standards' - it comes from within :)

— Reece Hughes (@TheMadMidlander) August 18, 2018
They also took to Instagram to comment on her new look, with one fan saying, "Sorry but those lips are to much such a shame your such a beautiful girl" and another added, "Oh dear. Such a pretty lady with a natural beauty but i think this isn't nice at all. When will the doll look go out of fashion and natural Monroe look be every girls goal."
Lauren's yet to comment on her new pout.
Download Our Fabulous New App For All The Latest On Your Fave Celebs