WATCH: Kylie Jenner Let Her BFF Do Her Make Up Blindfolded & The Results Are Hilarious
12 October 2017, 10:56 | Updated: 4 December 2017, 11:10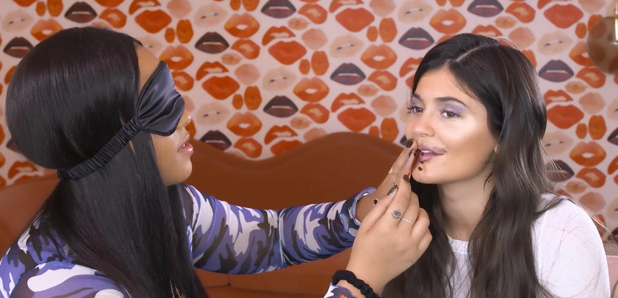 It's a strong look for sure.
We're used to seeing Kylie Jenner glammed up, but this new look she's been rocking is definitely an interesting one…
In her latest YouTube video, Kylie let her BFF Jordyn Woods do her make up BLINDFOLDED, (using all Kylie Cosmetics products, natch), while Kylie pretty much LOL-ed at her efforts.
We're kind of impressed Jordyn attempted a full on contour as well as a smoky eye (at least we think that was meant to be a smoky eye…) without being able to see what she was doing.
Definitely the craziest part of the look was the dark lipgloss… but if Kylie starts wearing it on her chin, you know the world will soon follow!
Check out the full hilarious transformation below:
Somehow, we don't think we're going to see Kylie rocking this combo of eyeshadow and lipgloss again any time soon…