Kim Kardashian's Personal Assistant Has Revealed What Happens Behind Closed Doors
17 May 2017, 15:15 | Updated: 4 December 2017, 11:10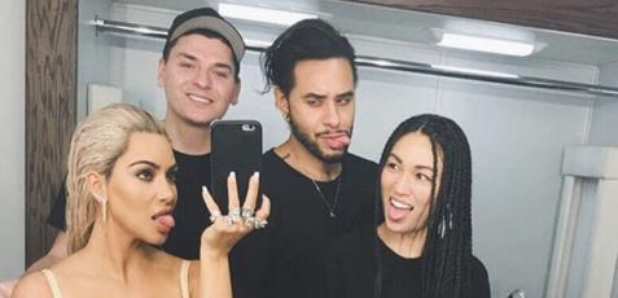 And yes, it's just as full-on as you'd imagine from the Kardashians.
It's rare that we ever get a look inside the real inner circle of the Kardashians – despite series after series of their reality show, few people know what really goes on when the cameras stop rolling… until now.
Kim Kardashian's personal assistant, Steph Shepherd has revealed all on what it's like being part of the family's inner circle to Refinery29, and her job sounds SERIOUSLY full on.
Steph is in constant contact with Kim and was in Paris with her during the armed robbery, explaining, "Obviously Kim and I text all day every day. From the second we wake up until we go to bed."
"At the time, I had to hold it together and make sure everything was getting handled, and that we could get Kim home as quickly and safely as possible. Whenever I've had to stay home alone, I get a little scared. So I did get a couple of extra pepper sprays…"
While she's Kim's right-hand woman, Steph often has to step in to help out oter members of the family, including Kanye West. She explained, "Once, we were in San Francisco, and Kanye was obsessed with that game Cards Against Humanity. I didn't ask questions, I just figured out where the hell to find the game in San Francisco."
Steph's job might seem like the dream, but she's definitely still answerable for when things go wrong, she explained, "I think everyone thinks this job is super glamorous — and I can't lie, it is. Truly, this family is so much fun, and we go to some amazing places and do some incredible things. But don't forget that when you're an assistant, with all of that glamour comes schlepping the bags and the suitcases and taking the fall when the car doesn't show up or the flight is delayed or something goes wrong."
What words of advice would Steph give to someone who fancies trying to make it as an executive assistant? Well, owning your mistakes is a big one.
She revealed, "I've f**ked up a lot. I'm only human. I get a lot of young girls asking me how to be a great assistant. I tell them three things. One is if you mess up, take responsibility and own it. I've f**ked up, I'm human. But I will just say, 'I am so sorry, and I will fix this.'
"Second, I say be resourceful. If your boss wants or needs something, you gotta do whatever it takes to make it happen. Don't ask questions, just make it happen. Lastly, I say take notes. Write. S**t. Down. Even if you think you're gonna remember it in your head, you're not. We have interns through Jenner communications, and every time I see an intern not taking notes when they're getting instructions, I'm like, you're gonna f**k this up! Just write it down — it's not that hard!"
Being in the Kardashians' world, one woman Steph looks up to is the world-famous momager, Kris Jenner – who she says can literally change the world with one phone call.
She admitted, "Kris Jenner is a f**king G. The biggest lesson she's taught me is to not procrastinate. When you want something done, get it done. If you're a procrastinator, this is not the world for you. If someone tells her no, she has no problem standing her ground and saying, 'We're not accepting that, get someone on the phone and make it happen.' That woman can literally get on the phone and change the world.
"And somehow, she juggles all of these kids, all of their careers, and still makes sure that every assistant, every staff member, has a Christmas present, delivered to us by Christmas, with a thoughtful card. And it's a nice-ass Christmas present. That's the kind of person I aspire to be one day."
It sounds like an awesome job, but also hella exhausting… we think we'll leave this one to the pros!