There's A Kim Kardashian Paris Robbery Halloween Costume On Sale & It's Anything But OK
11 October 2016, 10:38 | Updated: 4 December 2017, 11:10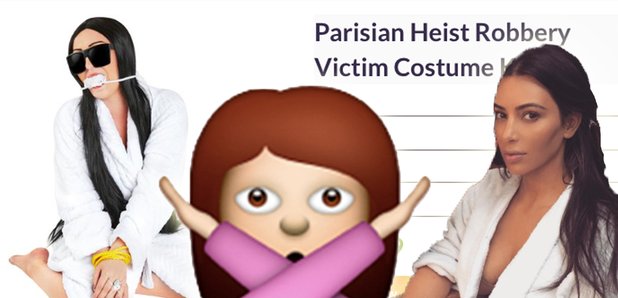 Seriously?!
Halloween is probably one of the only times of the year when you can totally get away with wearing something far more daring than you'd normally leave the house in, but one costume shop has gone WAY too far with their newest costume for this year…
Yes, some exec somewhere actually OK-d a replica costume of Kim Kardashian during her gunpoint robbery in Paris and, understandably, people are NOT happy about it.
Coming just a week after armed men burst into Kim's Paris apartment, tied her up in the bathroom and stole millions of pounds worth of jewellery, an online costume shop actually thought it was acceptable to cash in on it.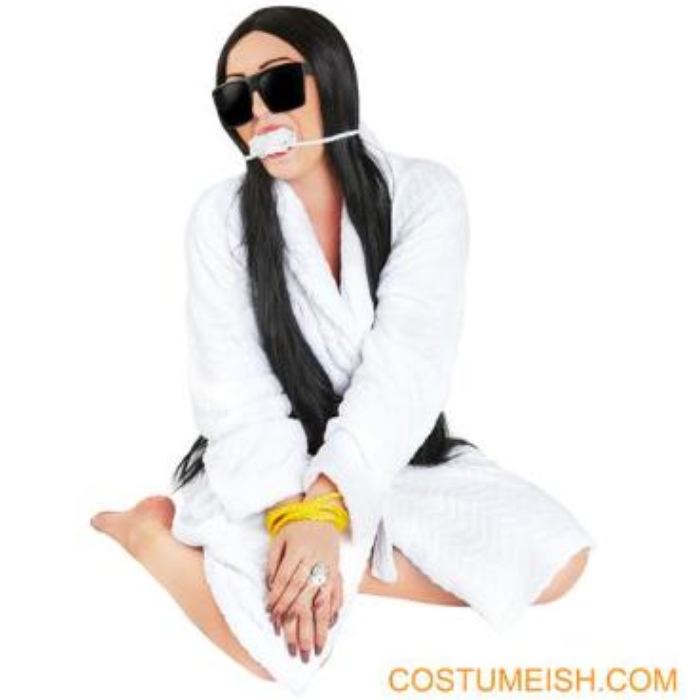 US costume shop Costumeish is selling a 'Parisian Heist Robbery Victim Costume Kit' for $69.99 (around £57) which comes with a 'white short sexy robe, long black wig, "$4million ring", large sunglasses, fake gag and 2 feet of rope'.
The site describes the costume as "This Halloween it's all about the #Hallomeme and who better than America's goddess of all things glamorous 'Parisian Heist Robbery Victim Costume?'
"She has devoted her life to promoting American decadence, youth, and hedonism but all that flashy living caught up with her one night in Paris when armed men bound her, stole her jewelry and her peace of mind." Nice.
It's hardly surprising that people have been less than impressed with the tasteless costume being peddled so soon after Kim's ordeal, and fans took to Twitter to express their disgust.
Someone made a 'Kim Kardashian robbery victim' costume for Halloween, I'd like to die and leave this planet for good, now.

— - ̗̀ metronome ̖́- (@mechromanced) October 11, 2016
I don't think the kim robbery costume is funny I think it's mean and not cute leave kim alone. @KimKardashian

— jordin (@kttyjordan) October 11, 2016
I don't care what your opinion is on the Kim kardashian robbery however to make a Halloween costume of a girl tied up mocking her is sick

— Chronically Stoned (@stonednannyxo) October 11, 2016
The @KimKardashian costume is TOTALLY disgusting. A mother of two was held at gun point in a bathrobe for some jewelry. #NotFunny

— Chelsea-Alana (@ChelseaAlanaa) October 11, 2016
someone thought a costume about Kim Kardashian getting robbed was a good idea. y'all are pathetic and disgusting pic.twitter.com/IGyvKKzg17

— Spooky Roooooyel (@Rokashi) October 11, 2016
okay this is disgusting? a women being bound and threatened wITH HER LIFE IS NOT A COSTUME KIM KARDASHIAN IS IN FACT A HUMAN WITH FEELINGS!! pic.twitter.com/5gXenncoNV

— Alex Turco (@ATwerko) October 11, 2016
Who decided to make a costume out of @KimKardashian's robbery? I don't even like her and know that's still not something to joke about

— Alecia (@aIeciaa) October 11, 2016
people made a costume of kim kardashian west being tied up and robbed. least to say i am very upset

— peaches (@Safarii_Castro) October 11, 2016
plllleeeease let me catch you in the kim kardashian robbery halloween costume your life will end on october 31st

— polite millionaire (@briannaocs) October 11, 2016
We're all for pop culture costumes (and we're totally preparing our Honey G hat and sunnies for this year's Halloween) but this one is just way too far – poor Kim!