Kim Kardashian Got Accused Of Having Drugs In Her Snapchat But It's Not What You Think
12 July 2017, 12:20 | Updated: 4 December 2017, 11:10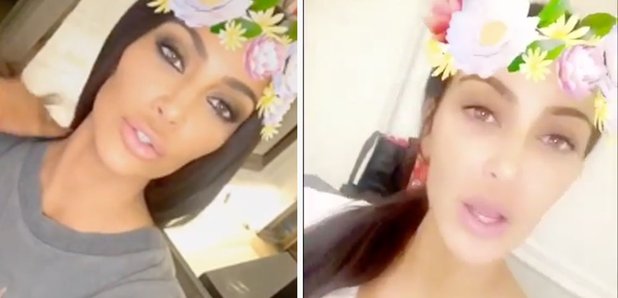 She first claimed it was sugar, but it's something very different!
Kim Kardashian had the internet in uproar once again after fans thought they spotted what appeared to be drugs in the back of one of her Snapchats… but Kim's come out and debunked what the substance really was.
Kim was promoting her kids clothing range on Snapchat and there appeared to be two lines of something people assumed to be cocaine on the table behind her that she was oblivious of.
After people started Tweeting her questioning what the substance in the background was, Kim claimed it was sugar from an earlier trip to Dylan's Candy Shop in New York.
I do not play with rumors like this so I'm gonna shut it down real quick. That's sugar from our candy mess from dylan's candy shop https://t.co/oICdPQVi8d

— Kim Kardashian West (@KimKardashian) July 11, 2017
People were still not convinced that the stuff in the background of the Snap was just sugar from the pixie sticks they had bought – and it turns out it WASN'T.
It was just the pattern in the marble counter. D'oh!
OMG you guys!!! Check my snap chats or insta stories I'm crying!!! That was not candy on my table! The table was marble this whole time!

— Kim Kardashian West (@KimKardashian) July 12, 2017
Kim posted another story taking a close up of the table and telling her fans, "Okay you guys, I just got back to my hotel room. And look at this table, same position. It is still there! So we did go to Dylan's Candy Shop. I did think that it was our pixie sticks.
"But after all that, this table at the background - is a marble table, you guys! Like, come on! I don't play like that. I have kids. It's just not my lifestyle. I don't think I've ever been like that... I just really can't believe this - that it was a marble table. And I thought it was candy. LOL."
We're glad to hear it!