Khloe Kardashian's Pregnancy Was Confirmed By An Executive Producer Of KUWTK & Kim K Is Furious
27 September 2017, 16:22 | Updated: 4 December 2017, 11:10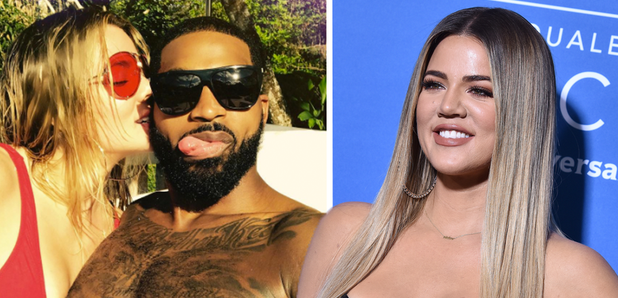 This whole situation just gets more and more confusing!
So, we know that Khloe Kardashian is seriously loved up with her boo, Tristan Thompson, and yes, they're annoyingly cute together.
In fact, just one month ago, Koko gushed over TT in an interview with US magazine 'You', admitting, "I'm in the best relationship I've ever been in and it doesn't take a ring for me to feel that way".
> 17 Photos Of Khloe Kardashian's Transformation That Will Simply Blow Your Mind
And now according to US Weekly's 'exclusive sources', Khloe is expecting her first child...and is already four months into the pregnancy!
We've already seen the world go mad for Kyle Jenner's pregnancy with close family friend Ryan Seacrest receiving a text from Momager Kris live on air...
When will the Kardashian drama stop (btw we don't want it to EVER stop)?!
Twitter has given us ALL the lols after the news spread like wildfire last night:
Kylie and Khloe Kardashian pregnant.

New gen Kardashians kids & babies.

Kris Jenner calling Nickelodeon like...
pic.twitter.com/JSSwNXFlQ0

— Nicki (@nickiknowsnada) September 26, 2017
Khloe Kardashian: hey Kylie im pregnant too.

Kylie.... pic.twitter.com/AeJ4U1SHhB

— Medium Rare (@StickAForkInYou) September 26, 2017
Khloe Kardashian and Kylie Jenner both reported pregnant ?? pic.twitter.com/UdYWHAJw7A

— Taylor(@Tayhoj) September 26, 2017
NEWS: Khloe Kardashian is pregnant. Kris Jenner's plan for the 10th Anniversary of the Kardashians is falling into place.

— Yashar Ali (@yashar) September 26, 2017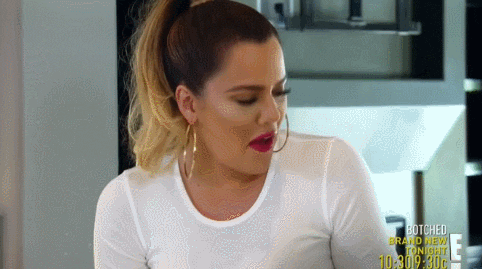 It was only in July that she uploaded a rather intriguing Snapchat, which sent fans into overdrive!
The photo in question showed three loved up polaroid photos of Khloe and Tristan sharing some seriously cute coupley moments, and one of them is captioned "Dad + Mum…".
Is khloe pregnant???? I need answers am I just getting over excited over nothing pic.twitter.com/e87yOku8sK

— Lauren (@laurenpattis0n) June 26, 2017
This isn't the first time that Khloe has referenced having kids with her basketball player beau, as she's mentioned on Keeping Up With Kardashians in the past that "Tristan and I definitely talk about starting a family. He wants to have about five or six kids with me and that's lovely. We could start at one and we could grow from there".
It looks like Khlo also had some handy ways of sending us down the wrong path as in July, she kept tweeting about her hangover! Damn you Khloe, you had us hook like and sinker!
Ok now I need a hangover remedy lol

— Khloé (@khloekardashian) June 26, 2017
Thank you for the hangover tips. Good old greasy food it is!! Oldie but a goodie! I'll work it off later

— Khloé (@khloekardashian) June 26, 2017
Following all the speculation and news from sources, one of the Executive Producers on Keeping Up With The Kardashians, Jeffrey C Jenkins actually confirmed the news on Instagram, before swiftly deleting his post...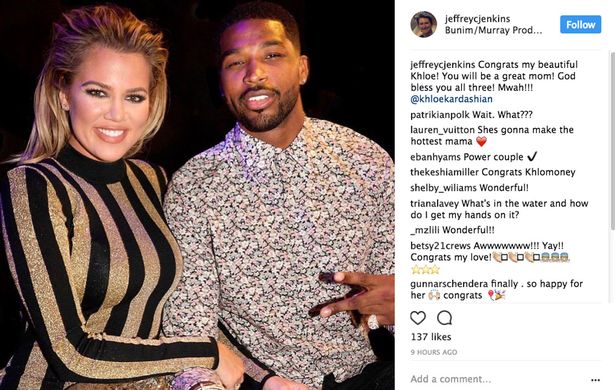 (Picture: Instagram)
But that sent Khloe's sister Kim into a whirlwind of fury and she vented her anger on Twitter, seeming to aim some shots at Jeffrey...
Let me just say this...

— Kim Kardashian West (@KimKardashian) September 27, 2017
People who supposedly work with us "confirming" details they know nothing about! Especially when we havent even communicated with them SMH

— Kim Kardashian West (@KimKardashian) September 27, 2017
So is Kim saying that there's no pregnancy to confirm or that Jeffrey shouldn't be the one doing it?
Someone help us!!!

> Download Our Slick New App To Get ALL The Latest Celebrity Chat Before Anyone Else!

Remember when Khloe had a bit of a worrying doctors appointment regarding her fertility earlier this year?