Uh Oh! Kendall & Kylie Jenner Are Now Embroiled In ANOTHER Cultural Appropriation Scandal
30 August 2017, 14:54 | Updated: 4 December 2017, 11:10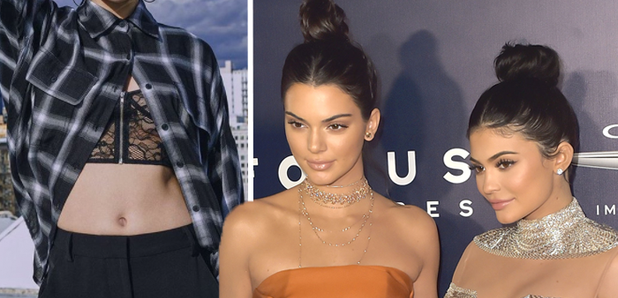 The clothes might be incredible but people are definitely not happy!
Listen, we all love the Jenners okay. Their amaze make up sets (thank you Kylie), the fact that they're kick-ass business women and of course they're actually a lot of fun on KUWTK. But they keep making silly mistakes don't they?!
> Don't miss a single piece of news regarding the Jenners with our banging new app!
The pair just can't seem to catch a break at the moment. Whether it is choosing the wrong skin colour for their emojis or printing their faces on top of legendary rap artists on t-shirts, the sisters aren't having the best of luck.
And now they've pushed the buttons of the 'chola culture' with the most recent shirt they're selling, check it out:
@KendallJenner @KylieJenner will you ever come up with your own ideas? #culturevultures pic.twitter.com/TZHKMLZenR

— Chica Picante (@lipstickittty) August 26, 2017
she literally took that entire look from Cholas from Latin culture She better realize that she's wearing what these female gangsters wear

— Adrian Saenz (@MCADRIANSAENZ) August 27, 2017
The rebel Latino subculture is being used more and more in the mainstream media, be it music videos, fashion and film. However, the actual members of the culture are becoming increasingly frustrated with the use of their signature looks.
> Twitter Isn't Happy With Kendall Jenner Over The Skin Tone Of Her Recent Emoji Choice
Speaking to Refinery, Ashley Sherengo a.k.a @lipstickkitty (the one who posted the tweet regarding the shirt) had this to say:
"They are always taking ideas from others and never give credit. Aside from being unoriginal, it's definitely irritating to see these girls making money off a culture they know absolutely nothing about. When we —Latinas and Xicanas— dress in flannels and big pants, we get profiled and frowned upon. But when they do it, it's 'fashion.'"
BTW, Kylie unfollowed a LOT of people and here's the reason why...