The Kardashian Reactions To Tristan Thompson's Cheating Are Just Weird
12 April 2018, 11:22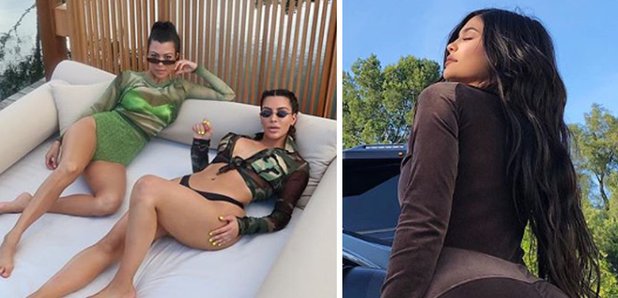 Fans are shocked at Khloe's family's behaviour.
It's been a pretty rough week for Khloe Kardashian after video footage emerged of her boyfriend, Tristan Thompson, cheating on her with multiple women while she's about to give birth but her family's reactions have left fans baffled.
Tristan Thompson's Been Caught Cheating On Pregnant Khloe Kardashian With Multiple Women
Following the news that Khloe might be in early labour amidst all the drama, everyone's eyes have been glued on the rest of the family to see how they would react to the news that their latest baby daddy had been playing away.
However, fans have been left disappointed that it's been business as usual for the Kardashian family – and the sisters have ignored the news and just carried on posting holiday snaps and promoting their merch instead.
Kylie Jenner's been showing off her nails and her booty and plugging her Lip Kits:
Momager Kris Jenner has also been plugging the cosmetics brand, while Kendall Jenner has been skydiving with another errant ex of her sisters, Scott Disick – who has three kids with Kourtney.
Kourtney and Kim meanwhile has been posting snaps of what a lovely time they have been having on their luxury holiday.
See my bright bikini pics from Turks and Caicos and shop the bathing suits I'm loving! https://t.co/pWujLd3aRB

— Kim Kardashian West (@KimKardashian) April 11, 2018
Fans were surprised that the family seemed to be ignoring the cheating scandal and took to Twitter to make it known.
OKAY BUT WHY ARENT THE KARDASHIANS ADDRESSING THIS?!?! I'd be rallying up an angry mob with pitchforks if that was my sister!! pic.twitter.com/tByeaFUXI0

— Lauren-Amy (@LaurenAmy99) April 12, 2018
Thought I would have woken up to news of Khloe giving birth or one of the Kardashians tweeting about Tristan. Nope investing a second day into this scandal, I can't cope

— Lucyyyy (@lucaaayyyyy) April 12, 2018
It KILLS me when the Kardashians go quiet.

— g e o r g i a c u t t s (@grgctts) April 12, 2018
What if all of this is a hoax and Kris Jenner is sitting behind her laptop making the whole thing happen? Wouldn't surprise me seeing as none of the Kardashians have said anything and are still going about their daily lives #KhloeKardashian #TristanThompson

— Lauren Moore (@Lauren_Mooore) April 12, 2018
Kardashians havent said anything about TT but they all unfollowed him on social media. pic.twitter.com/LKCITme3YD

— mG (@mgrewal94) April 11, 2018
Here's hoping one of them addresses it soon – we feel sorry for KoKo!
Download Our New App To Keep Up With All The Latest Kardashian News!