Joey Essex Just Got The Result Of His GCSE Exam & People Really Don't Know How To React
26 August 2016, 12:15 | Updated: 4 December 2017, 11:10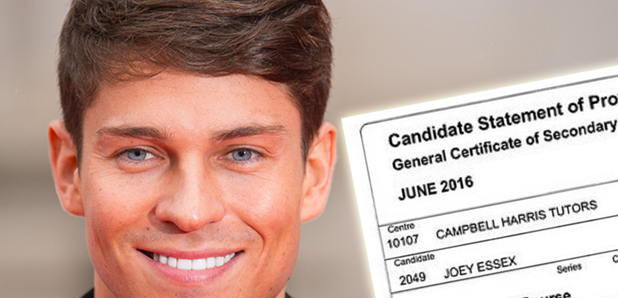 Does the Essex star now have one more GCSE on his CV?
Joey Essex has never claimed to be a genius.
10 years ago when he took his GCSE's he didn't exactly end up with the grades to get into Oxford or Cambridge!
Reports have even claimed that Joey left school aged 16 with a U in Drama, a C in art and a D in Wood Tech.
But he recently set out to change that and jumped back into the classroom to take another GCSE.
General Studies was the subject and he spent eight weeks preparing for his exam.
And it appears it was all worth it as he revealed last night that he gained a D grade!
HE PASSED! Kevin's crying! We're crying! Well done @JoeyEssex_! #EducatingJoey pic.twitter.com/pHdHZ0ZfI4

— Educating Joey Essex (@educatejoey) August 25, 2016
Before the reult was announced, Joey admitted, "I still don't really know what GCSE stands for."
Thank you so much for all the amazing messages .. happy you enjoyed the show tonight and so happy I got a D #Wallop pic.twitter.com/g02qAk9ygT

— Joey Essex (@JoeyEssex_) August 25, 2016
Whilst Joey was over the moon with his D grade, some people were left unsure exactly how to react.
AW joey essex got a D in GCSE general studies, im so emotional bless him

— maria (@Maria_aloot21) August 25, 2016
I'm crying only Joey Essex would be happy with a D in his GCSE

— karina (@labeledbieber) August 25, 2016
Y'all really applauding Joey Essex for getting a D?...

— Re-FollowMeEva (@Tessflocker) August 26, 2016
I'm actually crying that @JoeyEssex_ passed his GCSE!

— Emma Johnson (@emmzieloula22) August 26, 2016
Joey Essex got a D in GCSE General Studies & people are tweeting how proud they are of him lmao, he's a grown man ffs

— Joe Haywood (@JoeFHaywood) August 26, 2016
Joey Essex got a better result in General Studies than me. *Rethinks every life decision*

— Sam Mack (@SMLNTHNMCK) August 26, 2016
@educatejoey @JoeyEssex_ Well done Joey ☺️ You should be proud

— Elizabeth Murs (@ollysgirl14) August 26, 2016
I'm tad bit confused by 'if Joey Essex can achieve a D at GCSE you can do anything you put your mind too', I wouldn't go that far

— Callum (@KidCalledCal) August 26, 2016
So how do you feel about Joey gaining his D grade?
You could see how happy he was when he opened those results and that's enough to warm anyone's heart, right?
Well we're proud of you anyway Joey - good work lad!
You may also like...