Joe Jonas Just Became The Ultimate 'How To Move On From Your Ex' Inspiration
23 August 2016, 14:47 | Updated: 4 December 2017, 11:10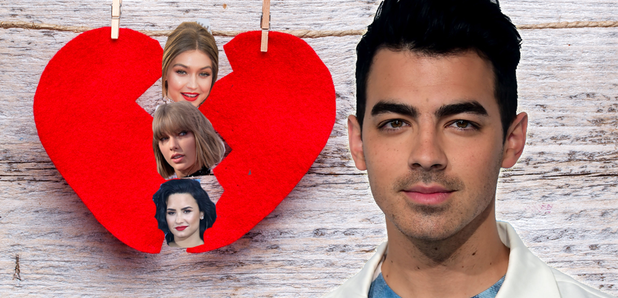 You don't have to just ignore them forever! Joe Jonas shows us how...
Let's be honest, Joe Jonas is undoubtedly a pop hunk.
He's had high profile relationships with Taylor Swift, Gigi Hadid and Demi Lovato.
And now he's our biggest inspiration when it comes to getting over our exes.
As Calvin Harris has found out recently, life after Taylor Swift can be quite dramatic.
After getting into that drama with Kimye recently, people were looking to see if Joe would have a comment on the situation.
But the DNCE member stayed well out of it having clearly moved on.
He told AOL, "I keep out of it. It's obviously everywhere, but I just stay on the sidelines."
Nice dodge there Joe.
Joe has also recently spoken out about Gigi Hadid.
Earlier this year he said that he was "writing a song that would p*ss someone off" and recently revealed that it was about Gigi.
In a plot twist however, he told a tabloid, "Those songs in particular didn't make the album."
"You might hear them eventually, songs leak all the time, but I think the place I was in my life when I wrote them, I'm not there anymore, so it wouldn't make sense to release them."
"I'm much happier than I was. They were reactive and therapeutic. You've got to let it all out and sometimes you have to step back and say, 'Is this me still to this day?' and you realise that you're in a different place."
Well if that doesn't make him the 'master of getting over your ex', we don't know what does.
Not to leave Demi out, Joe has also recently tweeted about his ex, once again showing us that it is possible to move on!
Whilst performing alongside DNCE on stage at London's iconic G-A-Y nightclub, Joe and the group recorded a video of themselves and the whole of G-A-Y singing 'Happy Birthday' to Demi. Aww.
HAPPY BIRTHDAY @ddlovato FROM @dnce & #GAYHEAVENLONDON & @JeremyJoseph LOVE YOU! pic.twitter.com/sdzhoHfEJm
— J O E J O N A S (@joejonas) August 21, 2016
Before Demi responded...
@joejonas I love this!!! Thank you!!
— Demi Lovato (@ddlovato) August 21, 2016
Joe then sent another birthday message to Demi and her response summed up just why Joe is our absolute hero...
Happiest of incredible birthdays to one of my best friends @ddlovato I'm so glad to have you in my life. Have the best one yet
— J O E J O N A S (@joejonas) August 20, 2016
@joejonas so grateful for you and our friendship. Love you!!
— Demi Lovato (@ddlovato) August 21, 2016
So this proves that Joe is the absolute master of getting over an ex.
If you ever need some inspiration, just think 'What would Joe do?'
Or write a song about them - whatever floats your boat...
You may also like...