Fans Are Ripping Love Island's "Fame Hungry" Jess & Dom For Opening A Kebab Shop
16 October 2017, 16:03 | Updated: 4 December 2017, 11:10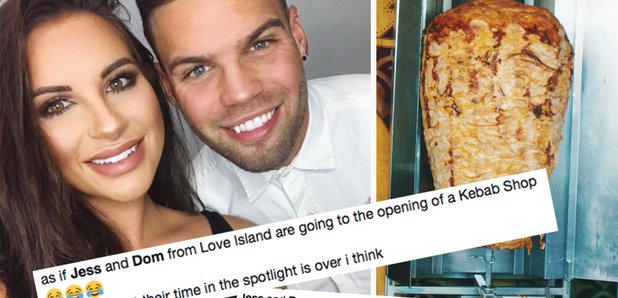 When you'd literally turn up to the opening of an envelope…
If you're following Love Island's Jess Shears and Dom Lever on any form of social media, you'll know they LOVE a hashtag spon, but fans are ripping the couple for making an appearance at the opening of a kebab shop.
The chain, German Doner Kebab UK, announced on Instagram that Jess and Dom would be making guest appearances at the grand opening of their Leicester branch this Friday on Instagram and Twitter didn't hold back.
They posted, "It's not just each other they're mad about, it's our kebabs too! Love is in the air this Friday the 20th October at 4pm as Love Island's very own Jess and Dom will be at the GDK Leicester launch event!"
Needless to say, the Tweets were pretty brutal…
Dom and Jess are actually going to the opening of a kebab shop. Them pair are absolute IDIOTS. Fame hungry twats

— ellieparis✞ (@ellie_paris) October 16, 2017
Jess and Dom going to an opening of a kebab shop

— Oli (@OliDent14) October 16, 2017
as if Jess and Dom from Love Island are going to the opening of a Kebab Shop
time to accept their time in the spotlight is over i think

— bert (@albyj97) October 16, 2017
Jess and Dom guest appearance at a kebab shop grand opening?! Surely not

— Palmer ☽ (@RebeccaJoPalmer) October 16, 2017
Use the code Jess and Dom for a free Pitta bread, they really need funds for this wedding opening a kebab shop

— Stacey Newburn (@staceyxnewburnx) October 16, 2017
Jess and Dom of love island fame doing a PA for a kebab house opening is hilarious.

— Jacob Broughton (@JakeBroughton) October 16, 2017
Jess and Dom opening a Kebab Shop in Leicestera new level of the word 'desperate'

— Toby Shanks (@LCFC_23) October 15, 2017
I'm sorry what? A kebab shop opening, I swear these pair will go to the opening of an envelope pic.twitter.com/n3XQwc9jUe

— Lauren (@itslittlelauren) October 14, 2017
Jess & Dom: How we gonna pay for the wedding?

PR: I've got an idea... pic.twitter.com/G0qJ4LMaWb

— Chris Robertson (@_chrisrobertson) October 15, 2017
Jess and Dom from Love Island are doing a meet and greet at a Kebab shop opening apparently, they've fkin made it big

— Yasin Khan (@YasinKhan99) October 15, 2017
Jess & Dom doing a PA at a kebab shop omfg behave #desperate

— Emma (@emmalou269) October 15, 2017
Jess and Dom are THE most tragic thing to ever happen to uk telly

— natalia (@natalianeill) October 15, 2017
I hink that Dom n Jess fae Love Island wid come roun n open yer post if the money wis right

— MJB (@MarcJBirch) October 15, 2017
Love how Jess and Dom from love island are trying to stay relevant by going to the opening of a kebab shop dead #loveisland

— Hollie (@MissHollieBury) October 15, 2017
Cringing at Jess & Dom doing an appearance at a kebab shop I feel 10x better about my life situation RN

— Helen Watson (@helenw_19) October 15, 2017
Yikes, well you gotta get that #spon money somehow…