This Cute Video Of Teenage James Corden Interviewing Meat Loaf Will Brighten Your Day
24 August 2016, 15:07 | Updated: 4 December 2017, 11:10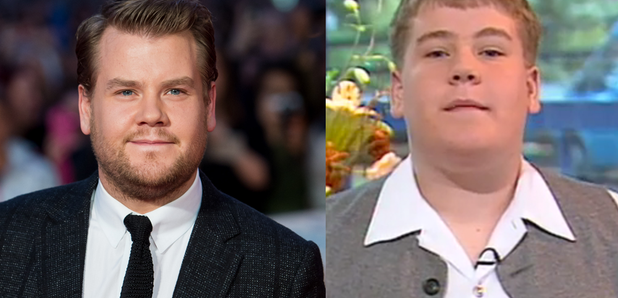 This is literally just too adorable...
Of course we knew he appeared in Gavin & Stacey.
Of course we knew that he made his first appearance on stage aged 18.
But what we didn't know was that as a teenager, he filmed what has just become one of our favourite interviews ever!
The footage of this incredible meeting of minds features both James and Rock icon Meat Loaf.
Filmed back in 1995, the footage has remained locked away in the vaults of TV history until now.
He's obviously since gone on to land his own hugely popular talk show where he interviews the world's biggest celebs, so it's amazing seeing how far he's come.
#OTD 1978 James Corden was born.
Ready for some #archivegold from 1995?!@JKCorden @latelateshow @realmeatloafhttps://t.co/bwXYhiqEuQ

— BBC Archive (@BBCArchive) August 22, 2016
In the video, the pair have a chat whilst tucking into breakfast at a hotel.
Meat Loaf is clearly a fan of young James and comes out with some classic comments.
Plus Corden even reveals that he's in a band and asks the star for some advice!
Since the footage has remerged, Meat Loaf tweeted Corden with this tongue-in-cheek message...
This is great! Memories! Hey @JKCorden let's recreate some afternoon tea and you can tell me how your band is doin! https://t.co/GoYJIL4Ekr

— Meat Loaf (@RealMeatLoaf) August 22, 2016
But as Corden is the King of Carpool Karaoke, fans have been suggesting that he should get his old pal Meat Loaf onto the show next...
@RealMeatLoaf @JKCorden @BBCArchive @latelateshow CAR POOL KARAOKE!!!

— Lady Penelope (@PenC1991) August 22, 2016
Time for a #CarpoolKaraoke @RealMeatLoaf @JKCorden reunion of sorts!

— Lisa S (@ldstarr18) August 23, 2016
@RealMeatLoaf @JKCorden @BBCArchive @latelateshow please can car karaoke with him!

— Rick (@Rick_Henry) August 22, 2016
So maybe we'll be seeing Meat Loaf hitching a ride from Corden in the very near future.
We can just picture the pair of them belting out "I will do anything for love"...
You may also like...