Ex Disney Star & YouTuber Jake Paul Is Being Slammed For Racism After Telling A Fan He Sounds Like He Would "Blow Someone Up"
4 August 2017, 15:29 | Updated: 4 December 2017, 11:10
Not okay.
It seems that once again, YouTuber Jake Paul has left us wondering whether we should turn the internet off for good (on second thoughts, let's not be rash), as he has caused more fury with his outrageous behaviour.
Jake, who has got 9.3 million subscribers on YouTube, after making the switch from Vine, has had a bit of an endless stream of hate due to his OTT LA lifestyle.
> WATCH: This Is What Would Happen If Snapchat Filters Messed Up Your Face IRL!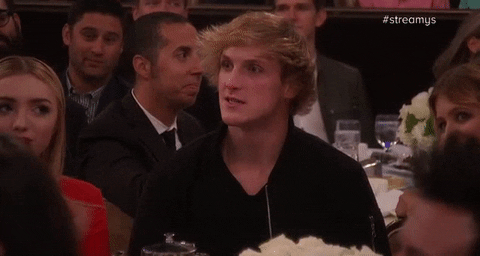 Fans are hitting out against him this time for his 'racist' comments in the most recent vlog.
#JakePaulIsOverParty was trending thanks to a moment in a blog which saw him pranking McDonald's employees by sending his self-driving car through the drive-thru with no one behind the wheel.
A fan quickly noticed him and ran over, asking for a selfie.
The fan was then asked by Jake where he was from before Jake proceeded to say, "It sounds like you're just going to blow someone up".
"the floor is jake paul" pic.twitter.com/4b5UeZqjCm

— m (@lovingemi) August 4, 2017
#jakepaulisoverparty
white boys to stan instead of jake paul:
dan howell
phil lester
troye sivan
tom holland
(reply with more)

— ㅤㅤㅤ (@morinmultis) August 3, 2017
okay but he already had it bad and then he went and called a dude with an accent a terrorist in his vlog. disgusting. #jakepaulisoverparty

— sarah (@sarahbradyyyy) August 3, 2017
Me showing up to the #jakepaulisoverparty pic.twitter.com/Zg4H6PnXny

— Alissa Violet (@AlissaViolet) August 3, 2017
why stan trash when you can stan class? #jakepaulisoverparty pic.twitter.com/ISWuQ1ZDke

— chloe (@foolspidey) August 3, 2017
I love this hashtag #jakepaulisoverparty

— pizza (@kian_pizza) August 4, 2017
Are you 12 year olds really defending Jake Paul right now? Are you serious? May God have mercy on you #jakepaulisoverparty

— Jasmine (@Hispanicjasmine) August 3, 2017
IM HERE LADS IM HERE FINALLY A PARTY I LIKE #jakepaulisoverparty pic.twitter.com/3OnSSGJ5Qp

— quisha (@quisharose) August 2, 2017
Despite criticism, Jake is still attempting to become the first ever person to hit 12 million subscribers in 12 months. We reckon he may want to change some of his content before that will happen.
We got some YouTubers to cover Shout Out To My Ex and OMG.