Our Favourite New Features To Get Excited About In IOS 10
13 September 2016, 12:17 | Updated: 4 December 2017, 11:10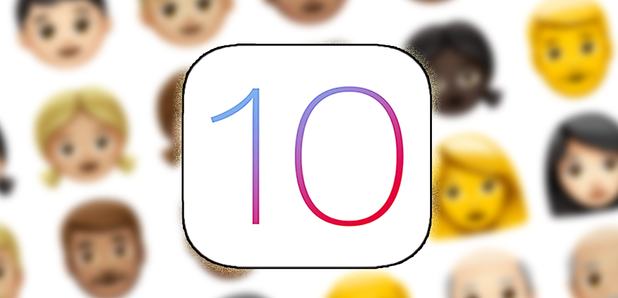 There are new emojis people!
Following the launch of the iPhone 7, Apple fever has once again been sweeping the world.
Whether it's the new wireless Airpods that are set to launch soon or the lack of a headphone jack, everyone is talking about the iPhone.
But now the biggest talking point is about to become the new iPhone software, iOS 10 and we've put together a list of all the things you can look forward to...
New Emojis
Yes, there are some seriously awesome new emojis.
Including everything from weightlifters and basketball players to builders, there are loads to check out.
There's even some new hairstyles thrown into the mix too!
#appleevent#ios10
New emoji pic.twitter.com/9XA4mx9RzG

— ألف (@ia_188) September 3, 2016
When using emojis in messages, they will also react like predictive text, so your phone will suggest an emoji that you could use.
Check all of the emojis out here.
Handwritten Notes
Whilst some apps have allowed you to do it previously, iMessage will now let you send handwritten notes to another iPhone user.
Once they receive your message, they will receive an animation to make it appear that you're actually writing something to them on paper.
Invisible Ink
This feature will let users send invisible messages that will only be revealed once someone swipes over it.
So if you've got some secrets to share with your BFF, this could be pretty useful for you.
when he sends you cute invisible ink messages >>>>>> pic.twitter.com/aGtysO1xz1

— lex (@LexiePatch) September 11, 2016
iMessage App Store
Apple have created the iMessage App Store to allow you to get 'mini apps'.
These will let you use stickers and GIFs in messages in a similar way to Whatsapp.
Now your chats will be super animated!
Memories
This feature will alert you to old photos/videos you've taken on this day last year etc.
Facebook already has a very similar feature, but it'll be nice to have the same for your iPhone, unless you've still got some pics you'd rather just forget on there!
Deleting Default Apps
We can finally delete that completely useless stocks app!
That's pretty much our favourite thing about iOS 10 right now tbh.
That's all we really needed Apple!
"Your storage is full" thanks Apple, Ill just go delete some photos of my friends and family but at least I'll always have the stocks app

— Ma (@heymaryih) September 13, 2016
When Can I Get My Hands On iOS 10?
The launch date for iOS 10 is TODAY!
It should be live at 6pm so keep your eyes on your notifications.
To double check when your phone's ready, go to General and then Software Update.
How Much Space Will I need?
When it comes to installing a brand new iOS, we all know that it requires some serious data.
It's sure to be at least 1GB in size and you'll need a couple of Gigabytes free space.
So if you're at your storage limit, you might want to start deleting those random apps you downloaded and never use right about now.
You may also like...