Video Suggests Honey G's Stage Invasion Was Faked By Producers As Invader's Identity Is Revealed!
26 November 2016, 21:24 | Updated: 4 December 2017, 11:10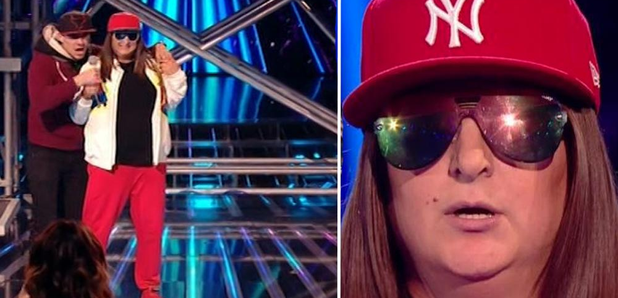 After just finishing her performance of MC Hammer's Can't Touch This, X Factor star Honey G experienced reportedly three men invade the stage.
One man appeared to grab the microphone from Honey when the camera cutaway to the judges. Simon Cowell ran to the rescue (the hero that he is.)
Simon went on to apologise to Honey, telling her: "I'm so sorry about that, are you ok? I thought that was part of the act, I was quite worried."
Twitter user Elle Angeles rewinded the footage and is accusing the show of faking the invasion. Watch her video commentating on the stage invasion below.
#XFACTOR #HoneyG FAKE FACTOR THE GUY WHO RAN UP IN STAGE WAS PROMOTED BY THEIR CREW WHAT A FIX LOL #FAKEFACTOR pic.twitter.com/G42CPJMfZk

— † Elle Angeles † (@Elle_Angeles) November 26, 2016
It seems to have divided opinion as to whether it was fake or not.
@privateillusion literally so set up,and the way they're going on as if they didn't know it was gonna happen!

— † Elle Angeles † (@Elle_Angeles) November 26, 2016
@Elle_Angeles @mattyholmes059 This is complete rubbish. Thy are both stage invaders just encouraging one another to go.

— Paul Wilson (@pwgolfer) November 26, 2016
However a reporter for Channel 5 news who's in the audience has tweeted that it was a 'genuine security' breach.
I'm in the audience of the #XFactor (don't judge me)..and that was a genuine security breach just then. Judges seem extremely shaken

— Julian Druker (@Julian5News) November 26, 2016
Simon Cowell jokes to the studio audience 'any more stage invaders? That's what happens in live tv' #XFactor

— Julian Druker (@Julian5News) November 26, 2016
Re #xfactor security breach. Definitely not a stunt. Inquiry going on in studio as to how invaders got in.

— Julian Druker (@Julian5News) November 26, 2016
It didn't take long for one of the invaders to be revealed as 'prankster' Daniel Jarvis.
@Julian5News as seen on Facebook. It was serial prankster pic.twitter.com/mcpYjsj9V2

— Mr.G (@MrG48) November 26, 2016
He even posted this video on his Facebook from the studio saying that he was making his 'X Factor debut.'
YouTuber's TrollStation have since taken full responsibility for the stage invasion, posting this video of the moment it happened in the studio - absolute chaos!
X factor invasion pic.twitter.com/uBBNtoLGc9

— TrollStation (@TrollstationYT) November 26, 2016
You May Also Like