From Honey G To Damn Daniel - These Are 2016's Most Unlikely Stars!
8 December 2016, 15:48 | Updated: 4 December 2017, 11:10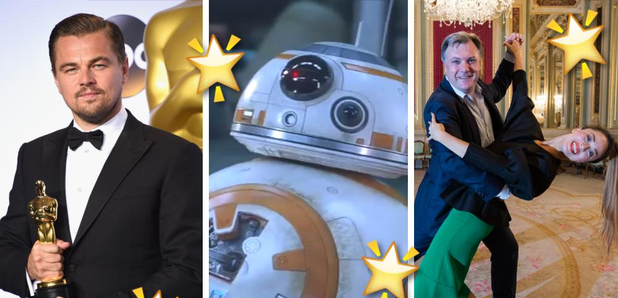 Because where else would you see a list with a rat, a robot and a dog wearing a jacket?
2016 has been one of - nay, it has been the most controversial, wildest, strangest year in the history of tomorrow. 'Nuff said.
Don't believe us? A boat made national headlines because of its name. If that's not enough proof, we don't know what is.
So to celebrate all things 2016-y, here's the unlikely stars of the past 365 days that we think need to be celebrated like the monumental heroes that they are...
Chewbacca Mom
What does your mother do on a day-to-day basis? She might sit at home and watch dodgy omnibuses on TV. Whereas Chewbacca Mom - whose real name is Candace Payne - racked up 140 million views on Facebook for wearing some Star Wars merchandise. She's since worked with James Corden and JJ Abrams, met Mark Zuckerberg and has her own action figure. Your move, boring mums of the world.
Chris Martin
What does your father do on a day-to-day basis? He might sit at home and have a good ol' moan at you. Whereas Chris Martin - not of Coldplay fame - went to the furthest extremes to mock his daughter as much as he could, but replicating all of her selfies on Instagram. From copying her intricate tattoos to wearing her skimpy crop tops. WHY AREN'T OUR PARENTS HALF AS SUCCESSFUL AS THESE?! Sigh.
Ed Balls
Ed Balls
Ed Balls

— Ed Balls (@edballs) 28 April 2011
Ken Bone
During the US presidential debate, everyone was listening intently to what Donald or Hilary was saying. We, on the other hand, were swooning over one audience member who wore a delightfully red cardigan, to go with his daring moustache and bespectacled face. And the best part? He's actually called Kenneth. Can we keep him? Can we please? We'll feed him and take him for walks.
Putting together my Ken Bone halloween costume pic.twitter.com/Hh0g3eQizw

— Feliks Garcia (@feliksjose) October 10, 2016
Candy Floss Girl
No, she's not the world's worst superhero, who's only ability is to deliver deadly sugar crashes to her foes. She's a young girl who had too much candy floss. The rest is viral history. Her teeth grit. Her eyes widen. It's like she's tasted the flesh of her enemies. Now we know what Walter White was referring to as 'Blue Sky' in Breaking Bad. It has to be this candy floss.
the first time is always the best time
Fat Dog In A Parka
At this time of year, we're all carrying a little holiday weight. What with advent calendars, Christmas parties, turkey, and every single snack in between. So we can't judge this dog for struggling to fit in this... LOOOOOOOOOOL! Who are we kidding? This is the greatest picture the Internet has ever produced. *sets as wallpaper*.
MY MOM BOUGHT MY DOG A PARKA AND HES TOO FAT FOR IT TO BUTTON pic.twitter.com/42ZAwCiYv4

— Ryan Holt ✡ (@LightningHoltt) January 22, 2016
Millie Bobby Brown
Remember when 'Stranger Things' didn't exist? And then all of a sudden Millie Bobby Brown became the most precious commodity on the planet? Not only is the 12 year old more talented than we'll ever be, but she also appeared in Sigma's video for 'Find Me', and she was the face for Louis Vuitton, and she basically killed it on the likes of Jimmy Fallon and other late night talk show, and - well, do we need to go on? You know it. We know it. She's awesome. End of.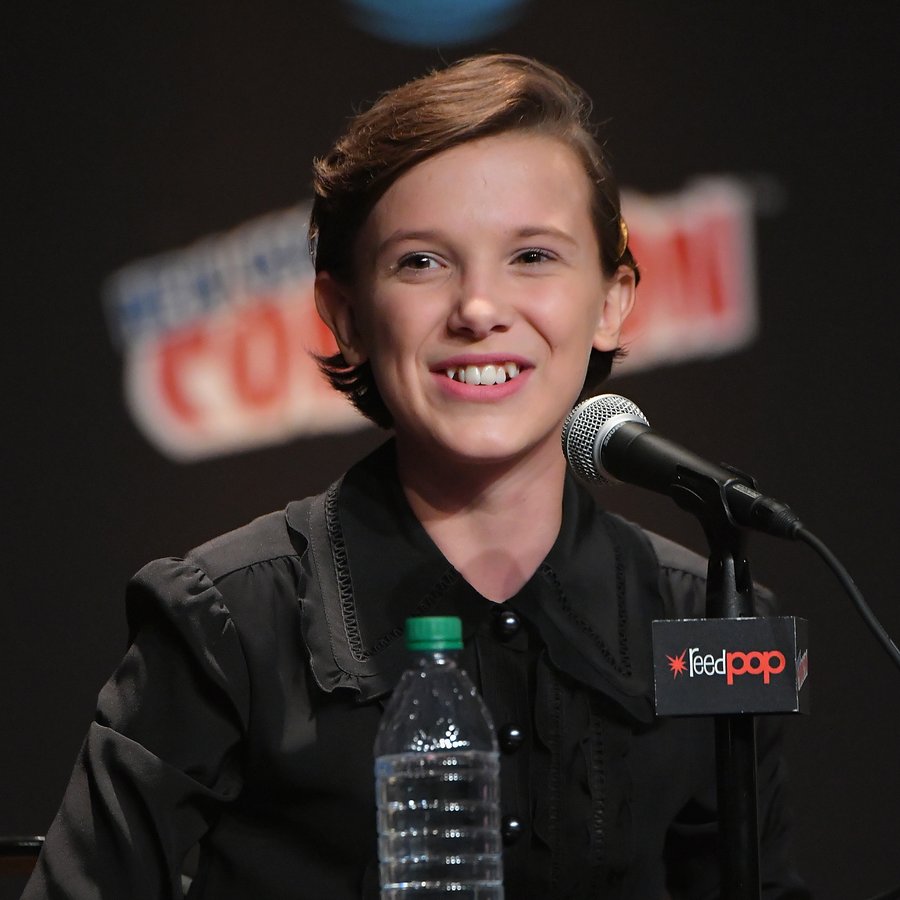 Pic: Getty
Joanne The Scammer
DrakeAndRihanna.com. Is it a timer to the the sickest joint album ever?! Is it going to reveal when they're touring together? Is it an announcement page that they're having a Drake, Jr. and Mini Rihanna?! Is it a bird?! Is it a plane?! No it's... The work of genius Joanne The Scammer. It just played a video of the Internet comedian complaining that Drake didn't come to her at the MTV VMAs; "I've waited so long to take a f***ing selfie with you and you weren't there to take it, but you come out for Rihanna? I'm prettier."
Skai Jackson
If someone says something stupid, it's difficult to say "That's petty". You're going to fall out, not talk anymore, and it gets really awkward when they've still got your Netflix password saved and you wanna ask them to not use it anymore. So to avoid all that tension, Disney made Skai Jackson, so that humanity would have an apt meme to describe petty af situations. This is the best thing they've done since Frozen. And let's face it; it's incredible.
Waiting to go on. @fox5ny #GoodDayNY pic.twitter.com/AxlVq1lPe4

— Skai Jackson (@skaijackson) April 4, 2016
Sad Papaw
Watch The Notebook 84 times in a row, with no toilet breaks. Then get your whimpering heart and blend it. That's just a fraction of the heartbreak you'll experience when you hear of Kelsey Harmon's grandpa, who invited his six grandchildren over for dinner, only for one of them to show after he made them all food. But the joke's on us, because he actually threw a later dinner party, where thousands of sad Internet-users showed up, and now he's more popular than all of us combined. Damn.
dinner with papaw tonight... he made 12 burgers for all 6 grandkids and I'm the only one who showed. love him pic.twitter.com/0z0DkPtUiR

— kelsey harmon (@kelssseyharmon) March 17, 2016
BB-8
It doesn't have arms, legs, eyes, a mouth or any defining features. And yet it still somehow makes us wanna be it's best friend. We mean C-3PO was just plain ol' annoying and who knew what R2-D2's problem was. Besides, anyone who's mates with Daisy Ridley and John Boyega is mates with us. (We've thought about this a bit too much, haven't we?)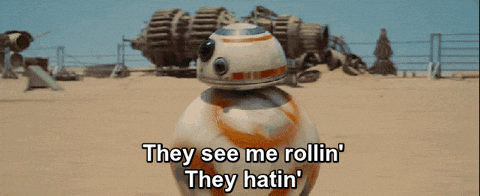 Honey G
From having totally not fake-fake stage invaders to having Snoop Dogg join her official fan club, we haven't gone a single day without talking about Honey G. Heck, we haven't gone half an hour without talking at the X Factor contestant. Some say we should get out more, but still... She's become a cult icon and if you didn't see at least one person dressed as H to the O to the N to the E to the Y to the G, then you were partying at the wrong places.
The Brownlee Brothers
We can't even get our brothers to buy us Christmas cards on time. But when it comes to this athletic duo, Alistair helped his exhausted sibling across the finish line during their Triathlon World Series in Mexico. He even pushed his brother in front of him at the finish line. And yet one of us here is still blamed for shaving the dog when we were three, because our sister blamed it on us.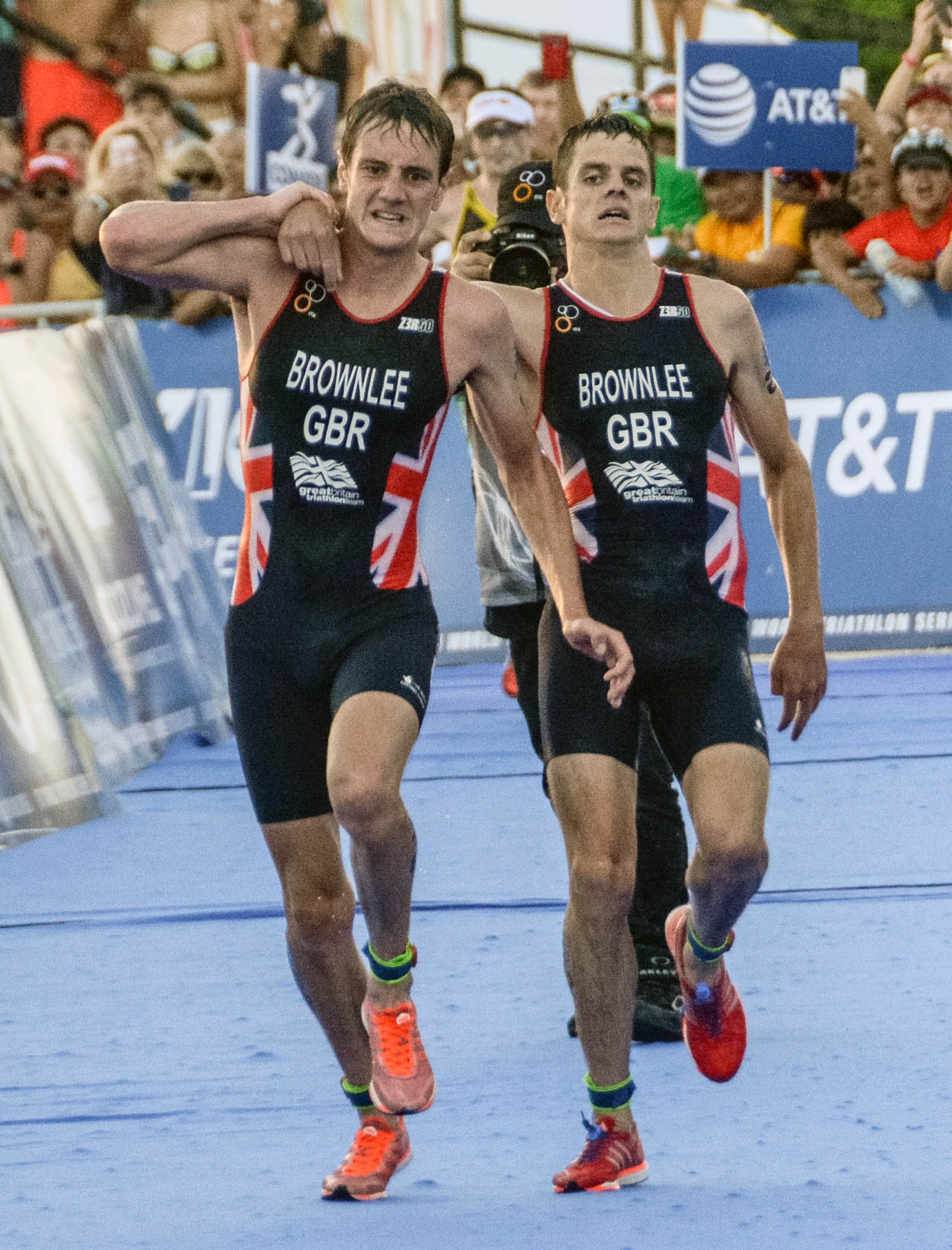 Pic: Getty
Damn Daniel
February 15th, 2016. Not only was it the day after Valentine's Day, but it was the day where one friend, Josh Holz, simply complimented his dear friend, Daniel's appearance - especially his white Vans. The rest is history. Within the first 48 hours, the video received more than 16,000 likes. One eBay user even listed a pair of Vans after the viral trend, and they went for as much as $400,000. Now if someone could do a "Damn Daniel" video about useless PEZ dispensers from over the years, 'cause we have loads of those we could sell.
Damn Daniel pic.twitter.com/Va10hmpePO

— Joshua Holz (@Josholzz) February 16, 2016
Leonardo DiCaprio's Oscar
We've cleared about 309,932,583MB of data on our computers after deleting every single Leo-Hasn't-Got-An-Oscar meme. For his performance in 'The Revenant', Leonardo DiCaprio finally walked away with a shiny golden man... By which we mean the Academy Award statue. Nothing like a new metallic BFF, FYI. S'ppose we could just edit all of the memes to mock him for him not having a BRIT Award?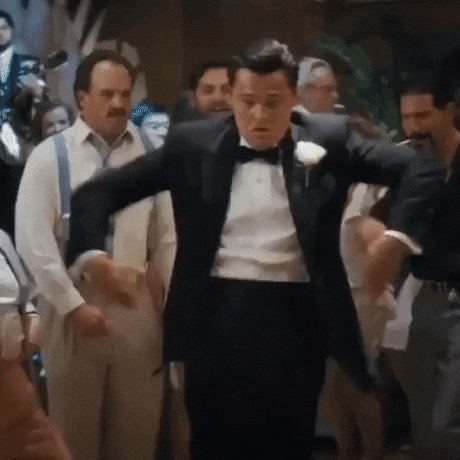 Pikotaro
We won't even say anything for this. Just watch it. Again. Enjoy. You're welcome.
My favorite video on the internet https://t.co/oJOqMMyNvw

— Justin Bieber (@justinbieber) September 27, 2016
You May Also Like...