Holly Hagan's Revealed The Tattoo She Gave Kyle Christie As Revenge For THAT Face Ink
11 April 2017, 14:48 | Updated: 4 December 2017, 11:10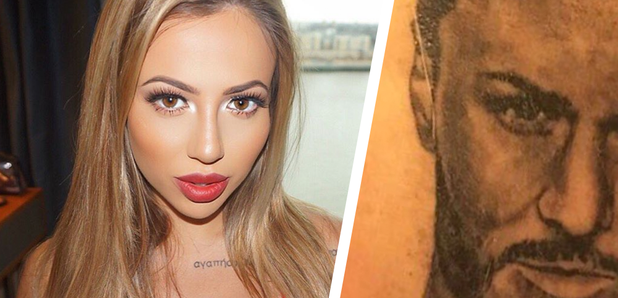 Wow, that has got to hurt!
By now, everyone knows that former Geordie Shore star Charlotte Crosby and her CBB winning boyfriend Stephen Bear have teamed up to host MTV show Just Tattoo Of Us, but it sounds like the whole thing is getting a bit out of hand.
You might remember that Geordie Shore stars Holly Hagan and her then boyfriend Kyle Christie visited the show's tattoo parlour and designed personalised ink for each other. Unfortunately for Holly, Kyle's tattooed his face onto her neck and she was NOT happy at all.
In fact, the tattoo that Holly got is so shocking that we still can't stop looking at it...
@HollyGShore Is this tattoo really true? OMG How did it feel to see Kyle's face on you? i love hyle pic.twitter.com/SGRotlPUJW

— ㅤㅤㅤ (@AFFECTIONMARNIE) March 6, 2017
Yes, that is indeed a tattoo of Kyle's face across the whole of Holly's neck and upper back!
But why would anyone do that, we hear you ask? Especially when these two had previous for splitting up and getting back together and have since done just that - split up!
Well Holly wasn't going to let Kyle get away with that and she's now revealed the details of how she got revenge on him with a tatt of his own in a seriously painful place. At the time, Holly explained, "A couple of weeks ago Kyle's grandad passed away. He's lost both his grandads now. I want to get their two souls on both of his soles."
Getting my feet tattooed acutally felt like my soul was being ripped out of my body!

— Kyle Christie ☠️ (@KyleCGShore) April 10, 2017
We can only imagine that the Geordie lad found it pretty difficult to walk for a while after having that work done on his feet, but we're sure that's exactly what Holly wanted as part of her revenge plot.
Speaking to a tabloid about the whole incident, a source claimed, "When the opportunity came for them to support Charlotte in her new job and get a free tattoo, the pair of them jumped at the chance. But while Holly put a lot of thought into her tattoo for Kyle, designing a meaningful pattern, he took a different approach."
"His decision to get a giant picture of his face inked permanently on to her neck left her absolutely furious - she was devastated. It's huge and she thought it was really out of order and thoughtless of him. Regardless of if they ever break up, she'll have to say goodbye to having her hair up or in a ponytail… unless she's wearing a scarf."
Fans have reacted exactly how you might imagine...completely gobsmacked...
@HollyGShore oh holly that will be painful to get rid of that tattoo let's just hope u nd kyle don't split up #tattoo #holly #kyle

— Della O Connor (@ConnorDella) March 6, 2017
Holly's friend Chelsea has since shared a video of her pal receiving laser treatment to have Kyle's face removed from her neck - to be honest we don't really blame her!
Soon that awful tattoo will be gone babe @HollyGShore pic.twitter.com/TlWFxsRwdX

— Chelsea Ferguson (@chelsfergo) March 22, 2017
Hopefully it's nice and quick for ya Holly.
We're one session down and around 8 more to go! He currently looks like he has a skin condition thanks @SkinsandNeedles for the laser pic.twitter.com/cTvHqvyGx9

— H O L L Y H A G A N (@HollyGShore) April 10, 2017
You may also like...