Holly Hagan Hits Back At Photoshop Trolls With Unusual Video
23 January 2018, 13:04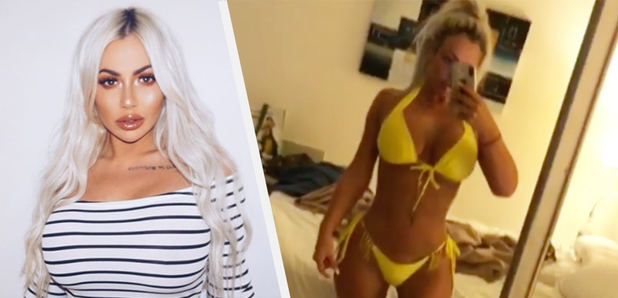 "Build each other up and if you can't then keep your mouth shut."
In case you missed it, on Sunday Geordie Shore star Holly Hagan shared a selfie of herself wearing a yellow bikini indoors as you do. But instead of people just appreciating the selfie for what it was, some fans accused her of photoshopping her body in the pic.
Clearly fed up with all the hate, the reality star took to Instagram to address the haters by posting a video of her standing up in the same bikini. Captioning the vid, she wrote: ".... but I'm probz photoshopping my videos too can never win, but this was the first holiday I've ever felt 100% confident with my body! Build each other up and if you can't then keep your mouth shut."
Of course most of her fans commended her for the video, telling her to "slay the haters away" adding that she looked "stunning," however, naturally there were some opinionated fans that clearly didn't get the message of the video.
Commenting under the Insta vid, one person wrote: "It's not photoshop but you have clearly had BBL."
"I feel a little sad for you. YOU are enough. You don't need to modify yourself... for anyone... ever! #saynotofattransfers.
"Um who cares if you're photoshopped or not you're fake plastic so either way."
Come on guys, play nice.
Holly's boyfriend, footballer Jacob Blyth also jumped to her defence in a post on Instagram, he said: "I'm telling you from first hand as I get to see this on a regular basis, this photo isn't photoshopped." Charming.
Talking of Geordie Shore, here's a throwback clip to the time the Geordie Shore cast played Snog, Marry Or Avoid...