Hilary Duff Has Hit Back At Criticism Over This Picture Of Her Kissing Her Son On The Lips
14 December 2016, 12:57 | Updated: 4 December 2017, 11:10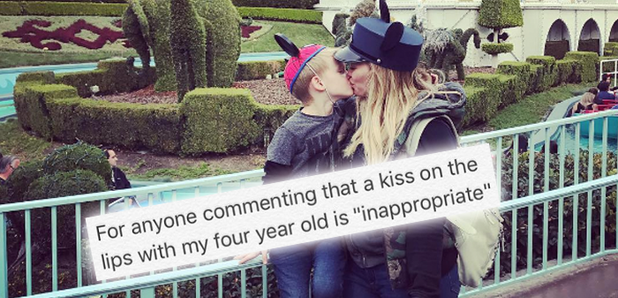 Hilary Duff came under fire recently for kissing her son on the lips and tbh we're not really sure why.
Yes, it has finally come to this. People have criticised a mother for kissing her son. 2016 is well and truly done.
When Hilary Duff posted this super cute snap of herself and 4 year old son Luca at Disneyland, she had no idea she'd be the target of a bucket load of judgment, but that's exactly what happened.
Comments began pouring in on her Instagram post in the thousands both in support and against. Messages such as, "I personally just rather keep that difference of romantic and innocent kiss separate" and even mentioning how it may have a psychological effect on Luca were seen under the post.
Well, Hilary decided it was finally enough and posted this caption in response:
PIC: Hilary Duff/Instagram
Hilary has spoken out on the issue once before in an interview with Yahoo, "I felt judged when I decided to start supplementing with formula after seven months, or when we got my son vaccinated or put him on antibiotics for an ear infection.'
How about we all just let parents get on in their own way, yeah...ok, thanks, bye.
You may also like...