Happy Father's Day... The Stars Pay Tribute To Their Dads
15 June 2014, 20:35 | Updated: 4 December 2017, 11:10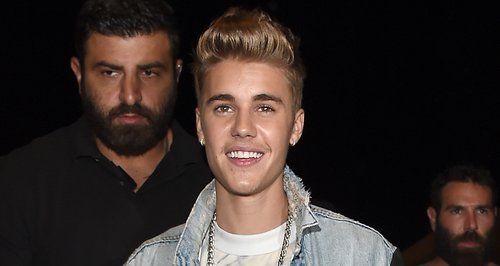 Read some of the heartwarming and hilarious tribute messages from the stars to their fathers.
It's time to give a shout-out to all the best dads in the world as the stars of pop take to Twitter to share the love for Father's Day today (15th June).
Stars ranging from Justin Bieber and Rihanna to Pitbull and Robin Thicke couldn't resist posting up a heart-warming message, or a cheeky dig, at their fathers to celebrate the worldwide holiday this weekend.
Some praised their dads as true life role models or thanked their parents for being there for them, while some of our stars even shared some hilarious #Throwback pictures of them back in the day with their fathers.
Check out the best of today's Father's Day Twitter tributes from the stars below:
Happy Father's Day @JeremyBieber. I Love you.

— Justin Bieber (@justinbieber) June 15, 2014
Happy Father's Day Pops! I love you deeply and unconditionally! You've taught me so much about myself! #DAD pic.twitter.com/bmJhZSvOb4

— Rihanna (@rihanna) June 15, 2014
Happy Father's Day to the step fathers who step up for the fathers who cant! And especially to the Mothers who have to be both, we adore you

— Rihanna (@rihanna) June 15, 2014
happy Father's Day to all the incredible fathers out there... thinking of you today daddy. love u.

— Ariana Grande (@ArianaGrande) June 15, 2014
Happy Father's Day to the greatest dad on the world ! @DavidHensley8 xxx #throwback pic.twitter.com/c5gpq0jwKl

— Jaymi Hensley (@JaymiUJWorld) June 15, 2014
Any man can be a dad, not every man has the abilty to be a father. Happy Fathers day!

— Rudimental (@RudimentalUk) June 15, 2014
Happy fathers day @berntone1 - the greatest dad I could ever ask for. My mentor, best friend & role model. Love u dad pic.twitter.com/jgEyaTmQnj

— Andy Brown (@LawsonAndy) June 15, 2014
Happy Father's Day to all our dads, all your dads and especially the ones who bring you lot to gigs and stick around for the show!

— Lawson (@LawsonOfficial) June 15, 2014
Happy Fathers Day to my awesome dad, thanks for pushing me to always do what I believe in. x pic.twitter.com/SsQycccctt

— Elyar Fox (@ElyarFox) June 15, 2014
Miss you dad x

— Professor Green (@professorgreen) June 15, 2014
love you! #FathersDay http://t.co/K7QvmHJBGI

— Cher Lloyd (@CherLloyd) June 15, 2014
Happy Father's Day. Love you Julian

— Robin Thicke (@robinthicke) June 15, 2014
Happy Papi Day pic.twitter.com/xdawefh2p6

— Pitbull (@pitbull) June 15, 2014
@Ashton5SOS happy Father's Day dad :-)

— Calum Hood (@Calum5SOS) June 15, 2014
To the greatest man I know (apart from me that is) lol happy fathers day dad. Love you lots xxx pic.twitter.com/hglDYEzfPc

— JJ Hamblett (@JJUJWorld) June 15, 2014