Girl Goes On Tinder Date... Then Gets Stuck In A Window Trying To Retrieve Her Own Poo Bag
6 September 2017, 07:34 | Updated: 4 December 2017, 11:10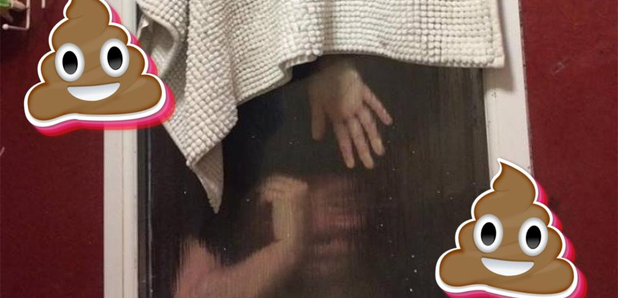 Standard.
Tinder can either end up going really, really, really well... Or it can result in a nightmare date. (Chances are, if you haven't experienced a nightmare date on Tinder, it's because you are the nightmare.)
But no matter what tales of woe you've experienced from the dating app, none can be as devastatingly hilarious as this.
> One Lad Has Just Completed Tinder And You Need To Steal His Game!
Liam Smyth was your normal, everyday kinda guy, who swiped on a girl he fancied, and took her to Nando's. They shared some chicken and laughs, so he invited his right-swipe to his place to watch Louis Theroux's latest film. So far, it's all sounding pretty damn dreamy, if you ask us.
This is where it escalates.
An eventful evening for Temple fire crews. https://t.co/FNbCNuVu5z pic.twitter.com/gZS8Cpmn9q

— Avon Fire & Rescue (@AvonFireRescue) September 5, 2017
After his partner retired to the toilet, she returned to Liam to say "I went for a poo in your toilet... And it wouldn't flush". Don't worry - it gets worse. She decided to throw it out of the window, where the bag full of her, erm, 'leavings' got stuck between his house and the neighbours.
You're in luck... It gets even worse.
The girl attempted to climb through the window to retrieve it, and ended up in the same situation as her poo bag; she got stuck. Poor Liam had to call the fire brigade, and after a 15 minute wait - and a hella lot of photography from Liam - she was rescued.
> Download Our App, And You Can Swipe Through The Songs You Wanna Hear... Don't Worry; They Won't Leave Anything Unexpected In Your Loo!
We're not entirely sure if a second date's on the cards. All we know is that he's currently running a GoFundMe campaign for a new window.
Speaking of Tinder-horror stories, Ro still sobs quietly whenever he recalls the time Ariana Grande totally pied him off on the app.