Someone Found Geordie Shore's Production Notes & People Are Freaking Out That It's Scripted
16 November 2016, 10:58 | Updated: 4 December 2017, 11:10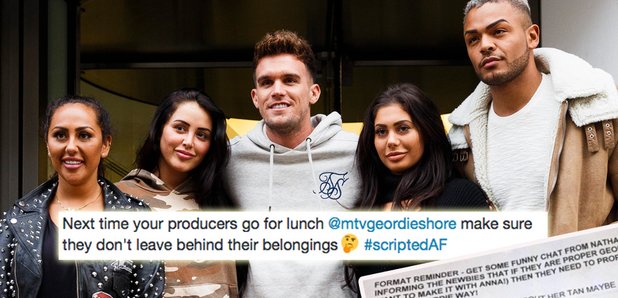 Uh oh… don't shatter the illusion!
Phew… this is definitely the week for Geordie Shore DRAMA. As well as three new cast members joining the show and Chloe Ferry apparently getting fired for kicking one of them in the head, the internet is freaking out about the series being scripted.
Last night, a tweet emerged from a Geordie Shore fan who had stumbled upon some production notes left behind by producers of the show in a restaurant, which show exactly how much guidance the cast get before filming scenes.
Next time your producers go for lunch @mtvgeordieshore make sure they don't leave behind their belongings #scriptedAF pic.twitter.com/vHZ7J14Wk0

— Sarah (@sarahsarginson) November 15, 2016
Fans quickly picked up on it and it caused uproar online with people blasting the show as being 'scripted' for telling the cast what they should be talking about.
The scene detailed on the notes sees the cast talking about Chloe Ferry's shock departure, seemingly confirming the reports that she was asked to leave the show indefinitely after a violent row with new cast member Zahida Allen.
The tweet accompanying the photo read, "Next time your producers go for lunch @mtvgeordieshore make sure they don't leave behind their belongings! #ScriptedAF".
Obviously, people didn't react well to the thought their favourite 'reality' show was, well, a little less real than they imagined.
Just seen that tweet about Geordie Shore being scripted, and all I can think is that this means there's people out there that think it ISN'T

— Liam Needham (@Liam_Needham) November 15, 2016
niver came across my mind that geordie shore is scripted !!WAAAT

— molly (@mollyjamiesonx) November 15, 2016
Don't know why everyone is shocked they've found a script for geordie shore, of course these things are scripted

— Lewis Mcilhiney (@LewisMcilhiney) November 16, 2016
Geordie shore is scripted?? a knew Chloe wasn't that funny in real life btw

— Shelly (@Shxizzle) November 15, 2016
Geordie Shore is falling apart and it's heartbreaking #GeordieShore

— Dani F (@asvp_dani_) November 16, 2016
@sarahsarginson @mtvgeordieshore omg I had a feeling some of it was staged but that just shows it all is

— Siobhan (@Siobhan_xxxxx) November 15, 2016
The notes also instructed the director to watch Marnie and Abbie's interactions to try and ensure a row over Aaron Chalmers would happen on their night out rather than during the day.
Most people, however, realised that reality shows need a little bit of guidance in order to work – every reality show has an element of scripting to get good scenes – and it's not like the cast were given actual lines to read on camera.
Scripted or not – we're not sure we can take much more drama from the Geordie Shore lot, and Season 14 only started filming a matter of days ago!