10 Times That The Game Of Thrones Girls Taught Us How To Be A Strong, Independent Woman
7 June 2016, 16:55 | Updated: 4 December 2017, 11:10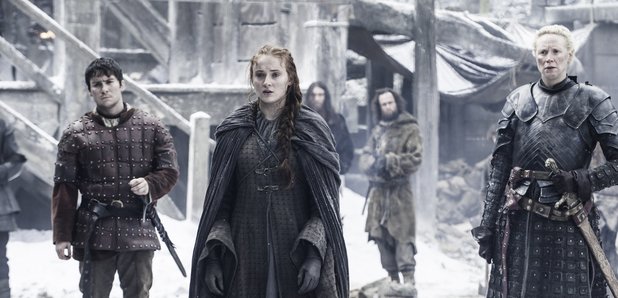 Because if you can't take life lessons from the Mother of Dragons, then who can you learn from?
Everyone knows that the Game of Thrones girls are amongst the most strong-minded and opinionated celebrities there are.
But just how many times have they SHUT DOWN social media with their anti-sexist views by being generally sassy and awesome ladies?
That time that Arya Stark shut down the press for being sexist.
Maisie Williams attended a charity event for the NSPCC and she was less than impressed by one particular headline.
In classic Williams style, she blasted the publication on Twitter in a stand for feminism that women everywhere should be proud of.
Alternative
Game of Thrones actor, Maisie Williams, helps raise thousands at a Summer Masquerade Ball for @NSPCC pic.twitter.com/tsDgOJTTcy

— Maisie Williams (@Maisie_Williams) June 6, 2016
When Ygritte addressed sexism in the arts.
When Rose Leslie spoke to The Telegraph, she made a point of discussing the change that is in motion within the arts. "In theatre [sexism] still stands…so often for women it's just the wife and girlfriend, a bit weedy, and I think that's a bit dull, personally."
Couldn't agree more.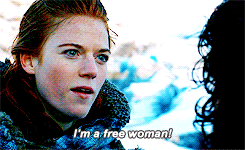 That time that Arya Stark said we should ban the phrase 'feminist'.
In one of her first interviews, Maisie was asked "Is Arya a feminist?", to which the young actress replied (after someone had explained what it was… come on, she was like… 12, when she started Game of Thrones), "Isn't that just like everyone?". Speaking to EW, Miss Williams said "I realised everyone is not a feminist, unfortunately. But I also feel like we should stop calling feminists "feminists" and just start calling people who aren't feminist "sexist" - and then everyone else is just a human. You are either a normal person or a sexist."
Well, that's that sorted then.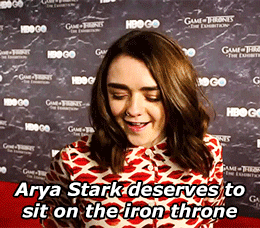 When Margaery Tyrell said that gender is irrelevant.
Ah, the girls really are at one with each other. Natalie Dormer, aka Margaery said that we're not after "Girl power! Wave the flag!" but that "we want to get to a place where the gender is irrelevant, because then it's about the personality, and about the story."
We can live with that.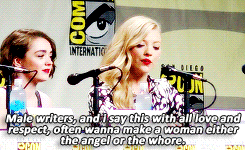 That time when Arya Stark said that feminism is bigger than just the UK and America.
Calling Emma Watson's famous UN speech 'first-world feminism', Maisie Williams makes a point to say that "A lot of what Emma Watson spoke about, I just think, 'that doesn't bother me'. I know things aren't perfect for women in the UK and in America, but there are women in the rest of the world who have it far worse".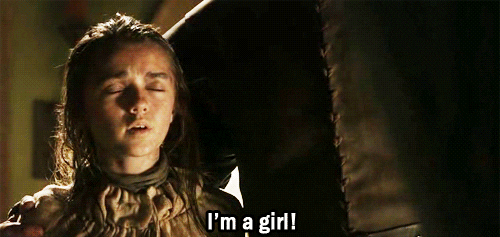 When Daenerys Targaryen got seriously emosh about how empowering her GoT character is.
Yeah, the seriously strong Khaleesi came over all emotional when a fan came up to her and declared her a bit of a feminist icon. "This gorgeous girl once said to me, 'Watching Khaleesi makes me feel like I can be a strong woman. I remember being like, 'That's proper'. That is a wonderful thing".
AMEN.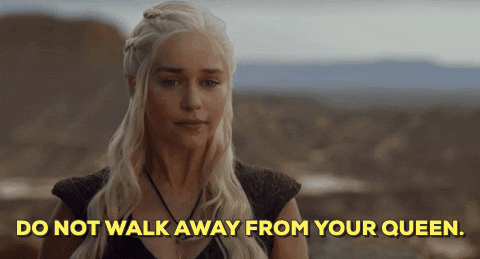 When Sansa Stark declared Game of Thrones a 'feminist show'.
Yep, Sophie Turner even waded in on the feminist action declaring that Game of Thrones is a 'feminist show' because it allows various female characters to break away from the social restrictions that are normally placed on them.
When Daenerys backed Sansa up and also said that GoT supports feminism.
Emilia continued to be the bad-ass that she is and argued that there is a strong feminist theme that runs throughout the show because it's about "the struggle for power" before saying that women "are in on that conversation!"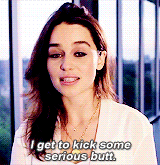 When Cersei Lannister wrote a feminist essay for her daughter.
Lena Headey, best known as Cersei Lannister, celebrated being pregnant with her second daughter by penning a seriously ON POINT feminist essay.
Read it in full
here
and prepare to have your mind BLOWN.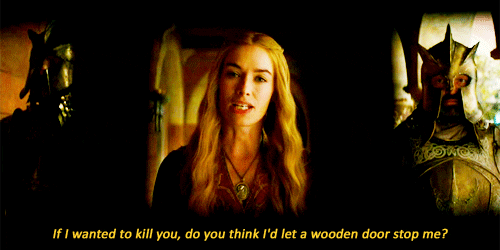 Daenerys Targaryen reigns supreme as she declares that the beauty of the show lies in its controversy.
Speaking to Entertainment Weekly, Miss Clarke adds that the show is a 'depiction of women in so many different stages of development. There are women depicted as sexual tools, women who have zero rights, women who are queens but only to a man, and then there are women who are literally unstoppable and as powerful as you can possibly imagine. So it pains me to hear people taking Thrones out of context with anti-feminist spin - because you can do that about this show. It shows the range that happens to women and ultimately shows women are not only equal, but have a lot of strength".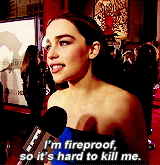 You May Also Like...