WATCH: Rixton, Gorgon City And More Take On The High Striker – Who's The Strongest?!
30 August 2015, 21:43 | Updated: 4 December 2017, 11:10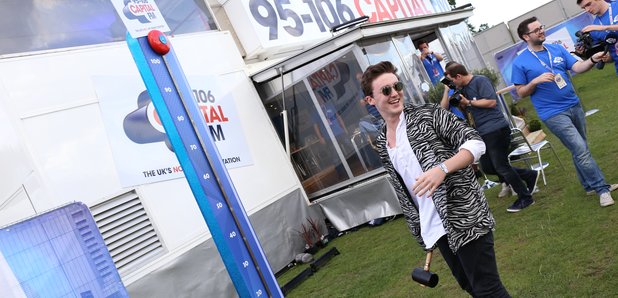 The stars of Fusion Festival 2015 take the ultimate strength challenge – but which star will be the strongest of them all?
The line up of Fusion Festival are the cream of the crop of music - but which of the artists to take the stage in Birmingham is the strongest? Well THAT is the question…
Everyone from Rudimental to Rixton took on Capital's High Striker backstage at Cofton Park in Birmingham - some of them managed to ring the bell by hitting the target with the hammer, and others… well… failed miserably.
Check out all the stars taking the challenge - and see who's the strongest artist from the Fusion Festival line up…
Rixton
If you missed it @rixtonofficial had a go on our High Striker game @fusionfestival on Friday #FusionCapital https://t.co/4BLDdWB4BY

— Rob and Katy (@robandkaty) August 30, 2015
Rudimental
Ready for their headline set tonight Rudimental played our High Striker game! #FusionCapital

Posted by Capital Breakfast Birmingham on Saturday, 29 August 2015
Gorgon City
The boys managed to smash the bell! Who knew Gorgon City were secret weightlifters? We're impressed! (Stay tuned for the video!)
The latest to take on the High Striker challenge @fusionfest are @GorgonCity #FusionCapital vid later! pic.twitter.com/jzaZDEFf9h

— Rob and Katy (@robandkaty) August 30, 2015
Union J
Josh Cuthbert failed miserably, but one of the other lads was VERY close to the bell! Find out who in the video coming soon…
Wheey @UnionJworld smash our 'high striker' challenge #unionJfans #unionjworld pic.twitter.com/GAmCJbmRid

— Rob and Katy (@robandkaty) August 30, 2015
Well, there we have it! Rudimental take our crown for the strongest artists of the weekend - we'll see the rest of them down the gym later…