The 10 Types Of People You Will DEFINITELY See At Fashion Week
15 February 2017, 17:24 | Updated: 4 December 2017, 11:10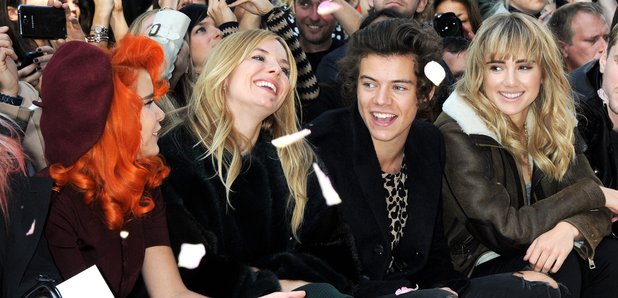 To celebrate the start of fashion month, we've put together your comprehensive guide of who you can expect to see in New York, London, Milan and Paris. You have been warned.
Fashion Month is upon us! Some of us don't care, some of us care too much. Whether it is New York, London, Milan or Paris, there are 10 types of people that will DEFINITELY be attending.
The blogger.
Can be identified by their Zara equivalent of last season's Chloe.
The girl who is just *chilling* outside the show venue, in a 'nonchalant' way waiting for someone to take her photo.
She probably won't even get into the show, but it's ALL about hanging around outside.
The street style photographer.
...who wears the most outlandish outfit there is, so that in between taking other peoples photos, they can have their photo taken and hopefully end up on a blog somewhere. YAY.
The kid on the FROW not knowing what the hell is going on.
Their mother, godmother, auntie, nan, sister, best friend, second cousin once removed is a fashion editor or something… dahhhhhhling.
The imposter disguised as an intern.
At a show of the designer you have NEVER heard of, is an intern who has been sent from the fashion team in lieu of one of the 'big dogs' actually going. She looks terrified due to the fear of being thrown out infront of everyone. That's fashion, babe.
The person who wears clothes that NO ONE WOULD EVER WEAR just so that they get their photo taken.
The person who is wearing a bin-bag for a dress or a child's cheerleading uniform is not being ironic or doing it for fancy dress – THEY WANT THEIR PHOTO TAKEN.
Do not satisfy these people – you are feeding their egos.
The groups of editors and buyers who are bitching about how much they HATE fashion week.
Until they get free goodie bags… and alcohol and food at the after parties. Suddenly, it's not THAT bad.
The slightly older buyers on the FROW who are taking photos on their iPads. Normally wearing suits.
Because cameras and iPhones just don't cut it anymore, apparently.
The tourist who has NO idea what is going on, but wants to be involved nonetheless.
They will ask EVERYONE how they can get into the Burberry show with about 0.1% of people actually acknowledging their existence.
The socialites in high heels, trying to hail a cab before the wind blows them over.
Because they can't be late for the next show or their SUPER important lunch reservations.